The Academy makes soft­ware engineering bet­ter & more pro­ductive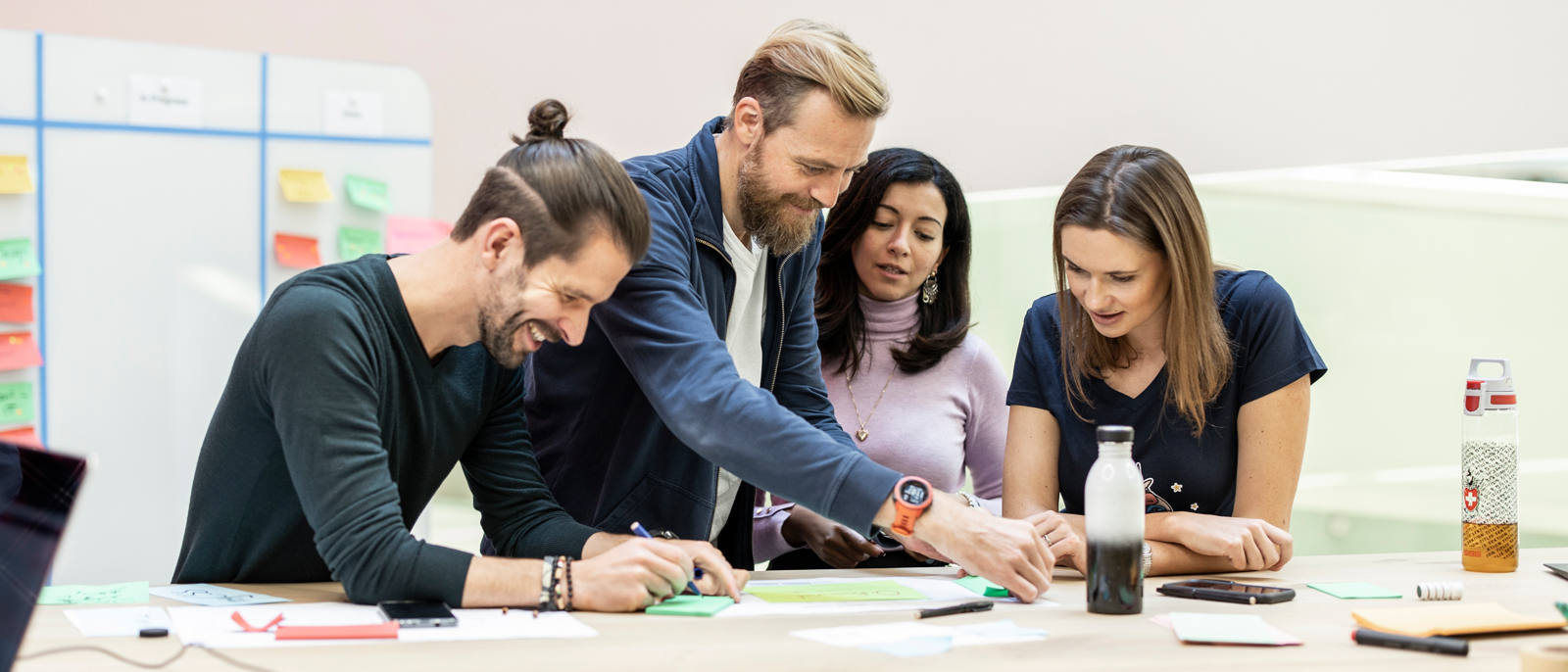 How does our team of around 150 software engineers keep up to date? And how does CSS position itself as an attractive employer among highly sought-after talent? Two questions addressed by the Software Engineering Academy.
Training boosts motivation and happiness

Better software quality, more productivity and increased satisfaction among employees – the results of the Software Engineering Academy, founded at the start of 2020, are worthy of attention. It was department head Pascal Erni who launched the in-house training initiative. And he brought Peter Koch, a passionate software engineer, on board to head up the Academy. The two initiators can draw on their experience, as well as studies and models. Ikigai, for example, is a Japanese concept which states that happiness in life is to be found at the intersection where passion, profession, vocation and mission merge.

Improving your own skills and putting them to use in an activity that you are paid for and enjoy doing increases your ikigai, or happiness in life. Conversely, if you don't have the knowledge you need to tackle a task, your motivation and performance — and ultimately also your ikigai – will suffer. Pascal Erni draws the following conclusion for his department: «If you continue to develop professionally, you'll not only be a better software engineer, you'll also be more motivated.»

Long-lasting practices, not ever-changing techno­logies

Software engineering is a particularly challenging and wide-ranging field of expertise. It's not only the technologies that are constantly evolving – the way of working is changing all the time too. So, what skills is it worth investing in long term? «At the moment, the Academy is focusing on long-lasting software engineering practices rather than on rapidly changing technologies,» Peter Koch explains before adding: «We have a catalogue of topics we wish to address. It hasn't really changed since we kicked off at the start of 2020 and has served us well.»

Online courses gaining ground

The Academy uses a variety of forms of continuing education, including traditional «off-the-peg» classroom-based training. Owing to the pandemic, these courses were held online, which proved to be very popular. «Thanks to video conferencing and digital whiteboards, people get completely absorbed in what they're doing. While the participants are working together, they forget that they are not in the same room,» explains Peter Koch, Head of the Academy. This not only saves the previously necessary travel and overnight expenses. Instead of whole-day training sessions held locally, today's courses frequently take place online, in a number of shorter sessions, over several days. The trainer could be in England, Germany, Israel, Romania or anywhere else in the world.

CPD as a selling proposition

And the employees taking part in the Software Engineering Academy are just as keen to talk about their experiences. «Learning has become a fixed part of my working week. I can deliberately work on my continuing professional development and think about something other than the daily routine,» says software engineer Edy Wermelinger, who is currently taking part in a comprehensive coaching programme. Pascal Erni notes with satisfaction that the opportunity to learn during working hours creates a strong bond within the department, as well as externally. «CPD is a strong selling proposition for us as an employer. It scores us recruitment points because we can show how our people keep up to date and what development opportunities we offer them.»