Reducing depression symptoms with the help of brain stimulation
Flow Neuroscience is a start-up offering a digital therapy that treats depression without the use of medication. This innovative approach is currently being trialled by patients in a pilot project at Privatklinik Meiringen. The initial results are highly promising.
Mental health problems on the rise
The corona pandemic has left its mark: according to a 2022 study conducted by CSS into the state of the nation's health, one-third of Swiss do not feel completely healthy. Mental well-being also appears to have deteriorated. In particular, many young women in the 18-to-30 age bracket (55%) describe their mental well-being in the recent survey as merely 'so-so' or worse. Depression is the most common mental illness, and it is usually treated with psychotherapy and medication.

Digital assistants make life
Apps guide us through yoga sessions, give us nutrition tips or track our sporting activities. There are many such health interventions on offer. And more and more of these digital assistants are now being used to boost mental health. As a health partner, CSS promotes digital health start-ups whose innovative solutions make the lives of insured persons easier.

Digital depression treatment with no medication involved
Through SwissHealth Ventures, a CSS Group company, we invest in digital health start-ups whose new digital technologies move healthcare forward. We have been investing in Flow Neuroscience since the summer of 2021. The start-up offers a digital therapy for the treatment of clinical depression that does not involve the use of medication. It uses a combination of brain stimulation delivered through a headset and therapy delivered by a behavioural intervention app. This enables patients to treat their depression under guidance at home or with the help of a professional.

Electrical impulses activate specific brain regions
The small Flow headset works with transcranial direct current stimulation (tDCS). This is a non-invasive and non-pharmacological form of brain stimulation. The headset delivers a weak electrical impulse (2 milliamperes) via electrodes placed on the forehead, thus easing the symptoms of depression.

Flow headset and app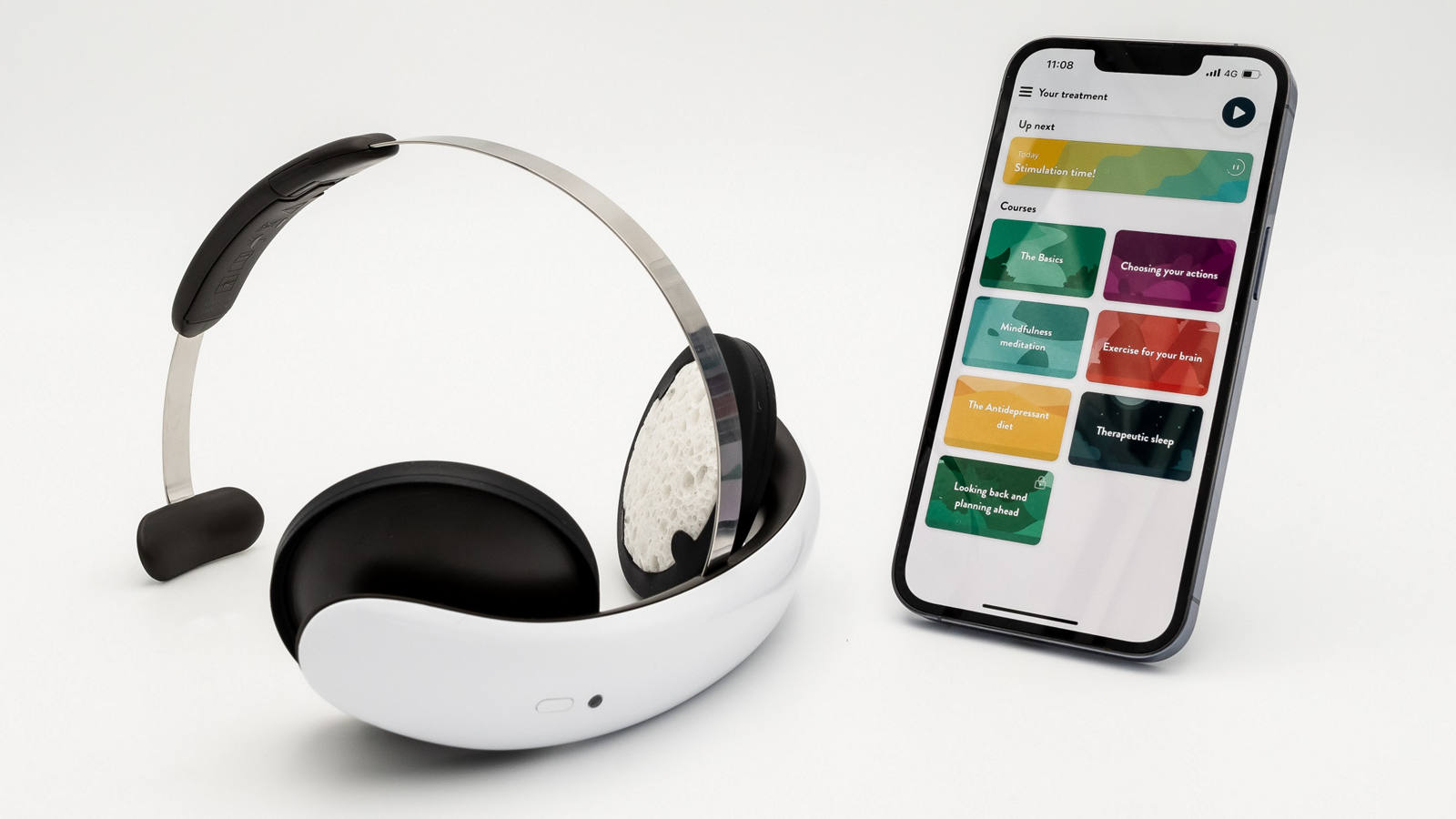 Pilot project trials new approach to therapy
CSS wants to test Flow as a complementary form of therapy and make it available to clients. But moving forward with innovative approaches of this kind calls for trust on the part of our service providers. As we maintain partnerships with many stakeholders in the Swiss healthcare sector, we talked to a number of clinics about testing Flow. Privatklinik Meiringen expressed interest immediately, and we then launched a pilot project together. The clinic is a leader in the treatment of depression, addiction to alcohol or prescription drugs, and burnout. The people in charge of the project have already looked into transcranial direct current stimulation for research purposes.

Guided use
The experienced doctors at Privatklinik Meiringen can provide the test subjects with the best possible support as they try out this new form of therapy. They explain the technology to the patients, help them set up the app, and provide support during use, which usually lasts for 5 to 6 weeks. At the moment, the therapy is only being trialled on an outpatient basis. This means that the test subjects use Flow at home and then discuss their experiences the next time they visit the clinic.

More energy and no medication
A total of 15 patients have tried out Flow as part of the pilot project so far. In particular, it was the prospect of being able to reduce or stop taking their medication that motivated the pilot participants to trial a new approach. Fourteen of them claim to be satisfied, but one person finds the headset uncomfortable to wear. Most of the test subjects felt they had more energy afterwards and would recommend Flow as a complementary form of therapy.

Coverage under supplementary insurance is being reviewed
CSS is pleased with these positive results. It is currently looking into whether Flow could also be used on inpatients at the pilot clinic in Meiringen in the future. CSS aims to eventually include the use of the Flow therapy in its benefits under supplementary insurance. But the findings from the pilot project must first be analysed in greater detail before this decision is made.