A skiing accident – what type of insurance pays the rescue costs?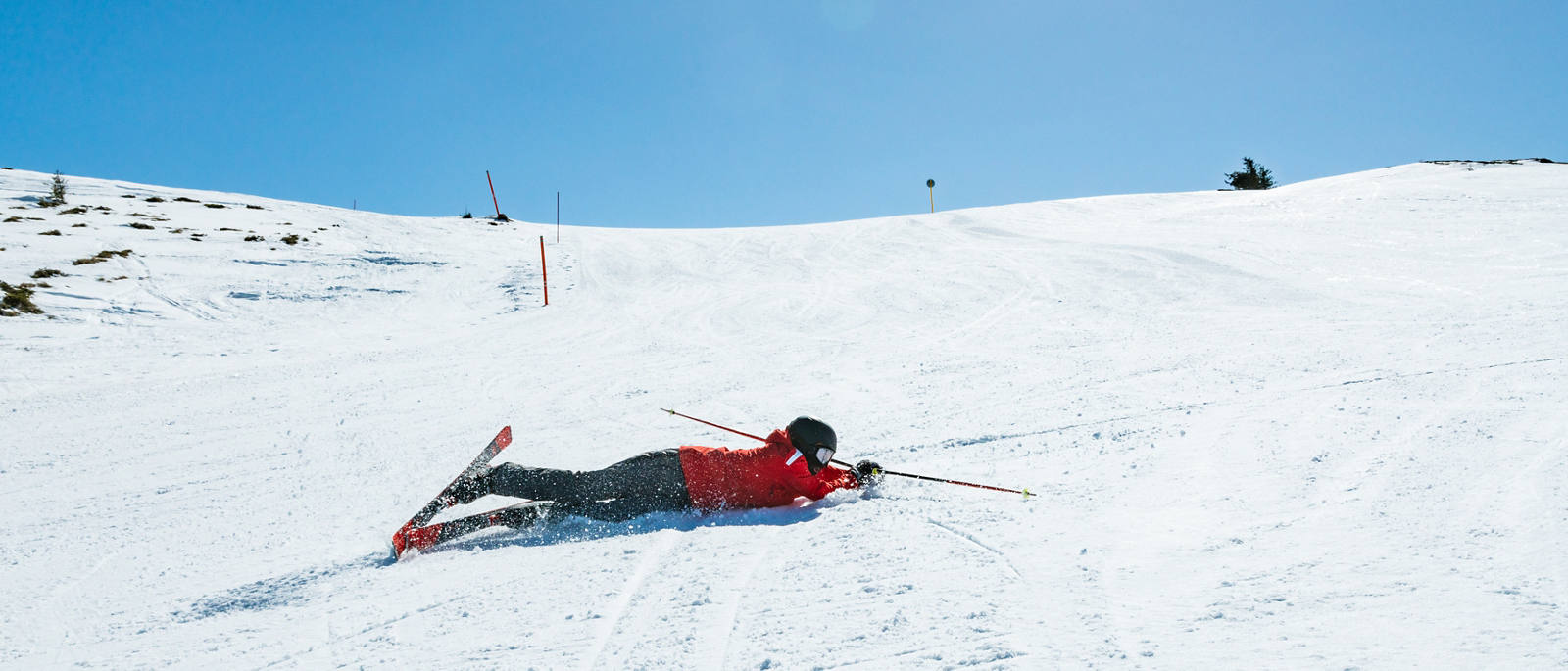 It's time to hit the slopes! But there's always a risk attached. In a worst-case scenario, your winter fun could even end with a trip to hospital. And that often leads to highly expensive rescue and treatment costs.
Who pays for skiing accidents in Switzerland?

Skiing accidents usually happen during your free time. If you work a minimum of eight hours per week for the same employer, you're automatically insured for non-occupational accidents – i.e. accidents that occur during your leisure time.

Worldwide cover for employees

And that cover is valid worldwide, not just for accidents in Switzerland. Mandatory accident insurance makes a financial contribution to the medical costs and if there is any loss of income.

Medical Costs Insurance for Accidents plugs the gaps in mandatory accident insurance.
Insurance for the self-employed, retirees and children

If you don't work or are self-employed, you can quite simply take out supplementary accident insurance from a general health insurer. The premium is low, but the benefits should you require hospitalisation and medical treatment following a skiing accident are significant.

Well protected if you have an accident
Skiing accident abroad
If you're planning a skiing holiday abroad, you should make sure you have the right international cover. If you don't have supplementary cover, the most basic insurance will pay is 90% of the costs that would have arisen for hospitalisation in Switzerland. Medical costs can be particularly high in countries with expensive healthcare systems, like the US, Canada and Japan – which also have fantastic ski resorts.

Rescue involving helicopter and search dogs

Real enthusiasts know what it takes to be well equipped and safe when enjoying snow and winter sports. But something can always happen – so, it's good to know that Rega (Swiss Air Rescue) and other rescue organisations can respond rapidly in an emergency. Depending on the situation, Rega might need to send out a helicopter, or search dogs could be used.

Expensive rescue – what basic insurance pays

If Rega is called out to airlift you to safety, for example, the cost of getting you off the slopes can average from CHF 4,500 to CHF 10,000 or more, depending on the area and how long the rescue takes.

Mandatory basic insurance that includes accident cover assumes some of the transport and rescue costs in Switzerland:

Cost of transport: 50% of costs, max. CHF 500 per year

Rescue costs: 50% of costs, max. CHF 5,000 per year

So, it makes sense to have supplementary insurance to ensure that the high costs, especially if Rega has to be called out, are fully covered.

Even more protection through travel insurance

If you'd like to take out additional cover under travel insurance, for example, you could opt for personal assistance, which pays for emergency transport like that provided by Rega. This is particularly useful and important for people who only have mandatory health insurance, and no supplementary insurance.
Accident on the ski slopes

The holidays are finally here, and it's time for some winter sport. You've packed your skis, snowboard, sledge and warm winter gear and are ready to head for the mountains.

Some risk is always present

The most common causes of accidents on the slopes are failing to warm up, going too fast and tiredness. Typical ski injuries include knee sprains, dislocated shoulders, back injuries and wrist fractures. In a worst-case scenario, your winter fun could end with a broken leg or serious skiing accident, and a trip to hospital.

What to do if you have a skiing accident?

There are a few important points to observe if you have, are involved in or witness a skiing accident:

Remain calm: fear and panic don't help.

Mark the scene: secure the accident area, e.g. with poles.

Injury, hypothermia: if you suspect broken bones or spinal injuries, the injured person should not (be) move(d). Use warm clothing to prevent hypothermia.

Wh-questions: what happened and where, how many people, who exactly is affected and who is reporting the accident – this information helps to organise the mountain rescue operation.

Is anyone else involved?

If anyone else has been harmed in the skiing accident, liability insurance covers the claim.
One-to-one advice

Get answers to your questions. Find out what cover you have in a one-to-one conversation. Book your appointment for a consultation now – digitally or at your local CSS agency.

Premiums for 2024 at a glance