Water damage – what should you do?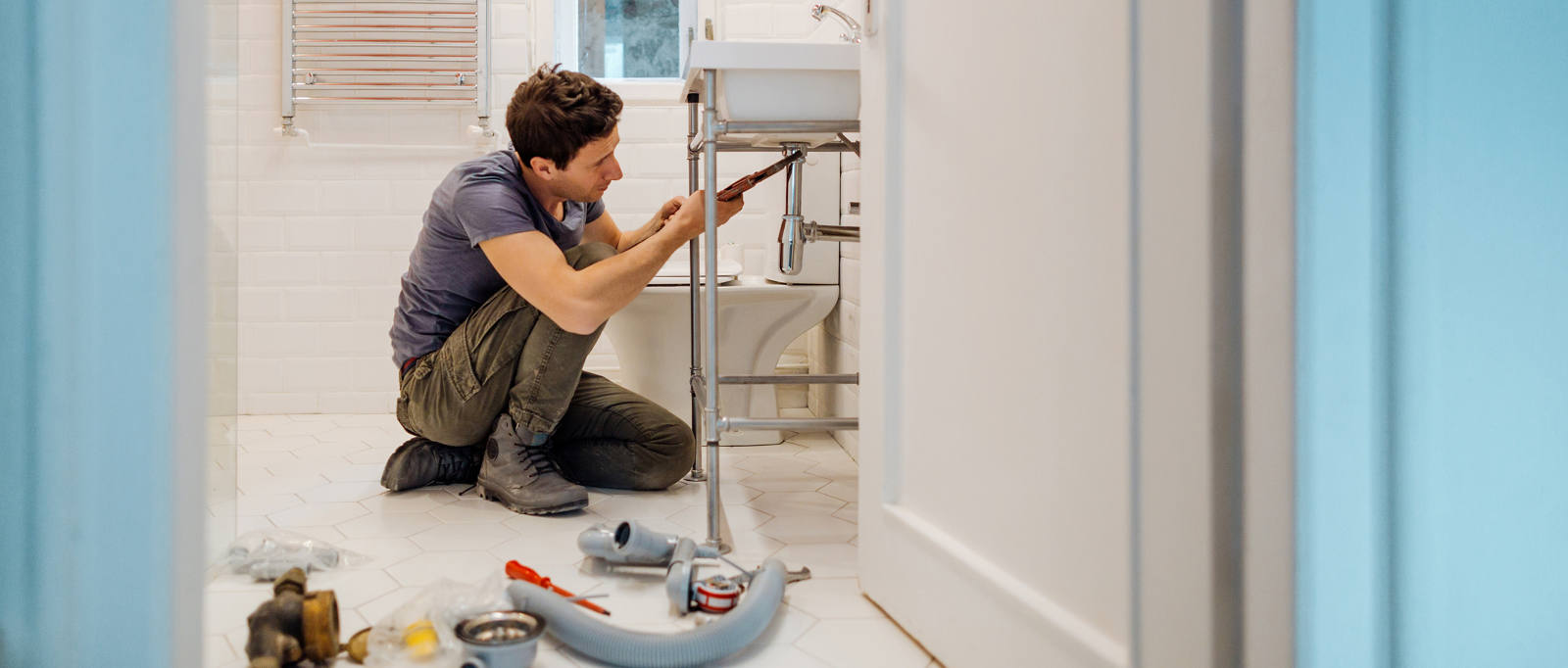 Whether it's a burst pipe in your apartment, an overflowing sink or flooding after heavy rain: water damage can have many causes. But what should you do – and who pays for the damage?
Water damage – what is it?

When water damage occurs, it usually comes as a surprise. The causes of water-related damage are many and varied. And not always obvious. Visible water stains or damp on the walls, for example, are clear signs of water damage from a burst pipe – but often aren't initially recognised as such.
The following indicate that a pipe has burst:

Sudden increased use of water that cannot be explained
Gentle sounds of running water coming from the plumbing system
Unpleasant odour or damp
Water coming back up out of the drain

What type of insurance pays?

Following the initial shock, the first questions you ask yourself are: who pays for the damage? What kind of insurance covers it? It all depends on whether you're a tenant or the owner of the building, and whether or not you're to blame for the damage.
Household contents insurance, liability insurance and buildings insurance all come into consideration. Liability insurance covers damage caused to your neighbours..
Cover for movable property
Household contents insurance
Clothes and shoes

Clothes and shoes

Electronic devices, e.g. computers, TVs

Sofas, tables and other furniture

Carpets

Discover the advantages
Request offer
Covers damage to the building
Buildings water damage
Voluntary cover for your property

Parquet flooring, floor tiles, fitted carpets

Walls

Fixtures, e.g. in the bathroom or kitchen

Discover the advantages
Request offer
What to do about water damage?

A puddle suddenly forms. A burst water pipe, broken dishwasher, leaky boiler or overflowing sink can cause a lot of damage. Here's what you should do:

Shut off the water.
Shut off the electricity if need be (risk of short-circuiting).
Clean up the water and move your household contents to a dry place.
Document the damage for your insurance.

Damage to rented property

If water damage occurs in a rented apartment, identifying who is responsible for the damage determines who is liable to pay. If the tenants caused the water damage – by letting the bathtub overflow, for example – their own personal liability insurance will cover the property damage. If the people living in the apartment aren't to blame, the landlord's insurance will pay.

Water damage to your own property

In addition to water damage caused by human error, such as an overflowing bathtub, there is another type of damage that results from the effects of nature. This includes high water, flooding, avalanches and landslides. We call this 'damage by natural forces'.

Damage by natural forces: buildings insurance pays

This type of insurance is mandatory in most cantons. Building owners can take out this insurance from the cantonal buildings insurance provider. In some cantons, cover can be taken out through a private insurer. Mandatory buildings insurance covers damage to buildings that is caused by fire and natural hazard events, such as

flooding in the basement
hail damage to the building
a fire in the kitchen

Better protection with buildings water insurance

Cantonal buildings insurance doesn't cover damage from water backups, burst pipes, rain, snow or meltwater. So, it's worth voluntarily taking out buildings insurance to cover these risks. If you live in a condo­mini­um, building cover is usually taken out jointly.

Always report the damage quickly

As a rule, tenants should never go ahead and arrange to have repairs carried out to their apartment without first contacting the company responsible for managing the property or their landlord. This also applies to water damage: always try to contact the property manager or your landlord first. They must order the repair or dehumidifying work to be carried out.

Health insurance premiums at a glance