On a cycling tour in the Bernese Diemtigtal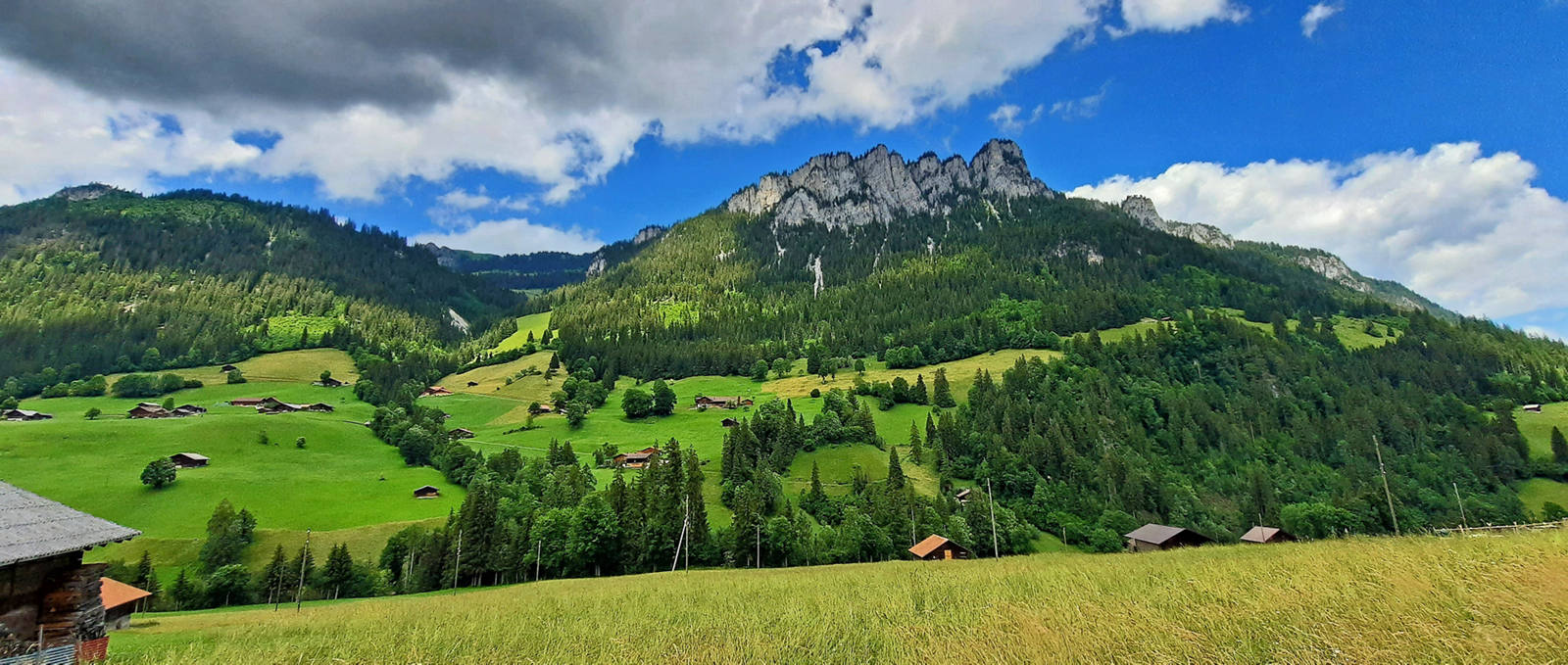 If you're looking for a typical Swiss picture-postcard landscape, you'll find it in the Diemtigtal in the Bernese Oberland. A short cycling tour is enough for you to see the beauty of the landscape unfold.
Discover Switzerland

Cycling and biking certainly rank among the most popular sports in Switzerland. And rightly so, as these sports are fun for people of all ages and the range of excellent tours on our doorstep is huge. With just a leap in the saddle, the adventure begins.

Diemtigtal Nature Park

Oey, which belongs to the political municipality of Diemtigen, is the starting point for our bike tour and the gateway to the Diemtigtal Nature Park. It advertises its natural beauty with the slogan: «Close, wild, precious». The wild side can be seen right after the village, where the road leads along the crystal clear Chirel stream, a body of water that caused massive flooding in 2005. The valley rises steadily, past Horboden, the home of wrestling king Kilian Wenger, and can be very narrow in places.

Cycling tour Diemtigtal
Route length: 20 kilometres

Ascent: 530 metres

Duration: 1.5 hours

Noteworthy: the tour is also suitable for e-bikes.

An expansive mountain landscape

Soon a wide mountain landscape opens up, which visitors would never have imagined from the valley below. It's not only the mountains – soaring here to heights of well over 2,000 metres – and the expansive views that are awe-inspiring. The farmhouse architecture, which seems to have remained unchanged for generations, also lures cyclists into stopping and taking a break. These Simmental farmhouses, some of which are centuries old, can be found all along the route. And even the newer buildings are almost entirely built in this traditional style: with lots of wood, wide flat-topped roofs, and often decorated with elaborate carvings and inspirational quotes. Given the sheer abundance of wooden houses, visitors almost get the impression that everyone in this valley – like wrestler king Kilian Wenger – is a carpenter by trade.

No chance of boredom

There's certainly no chance of being bored in the Diemtigtal, no matter where your route goes. In our case, the tour ran from Zwischenflüh towards Enetchirel, Röschti and Underberg, before peaking at Rothbad at an altitude of around 1,000 metres. Then it was back down again to Oey via the hamlet of Bächlen. Short but beautiful – and an enticement to return to the Bernese Oberland.

Wanting more?

Fit cyclists can also undertake a larger scale tour. This goes to the far end of the Diemtigtal  and – on paved roads nearly all the way – over into the Simmental, and then back to Oey. The challenge: 50 kilometres and around 1,500 metres of altitude.

Premiums for 2024 at a glance
Well looked after with CSS