Strawberry and asparagus salad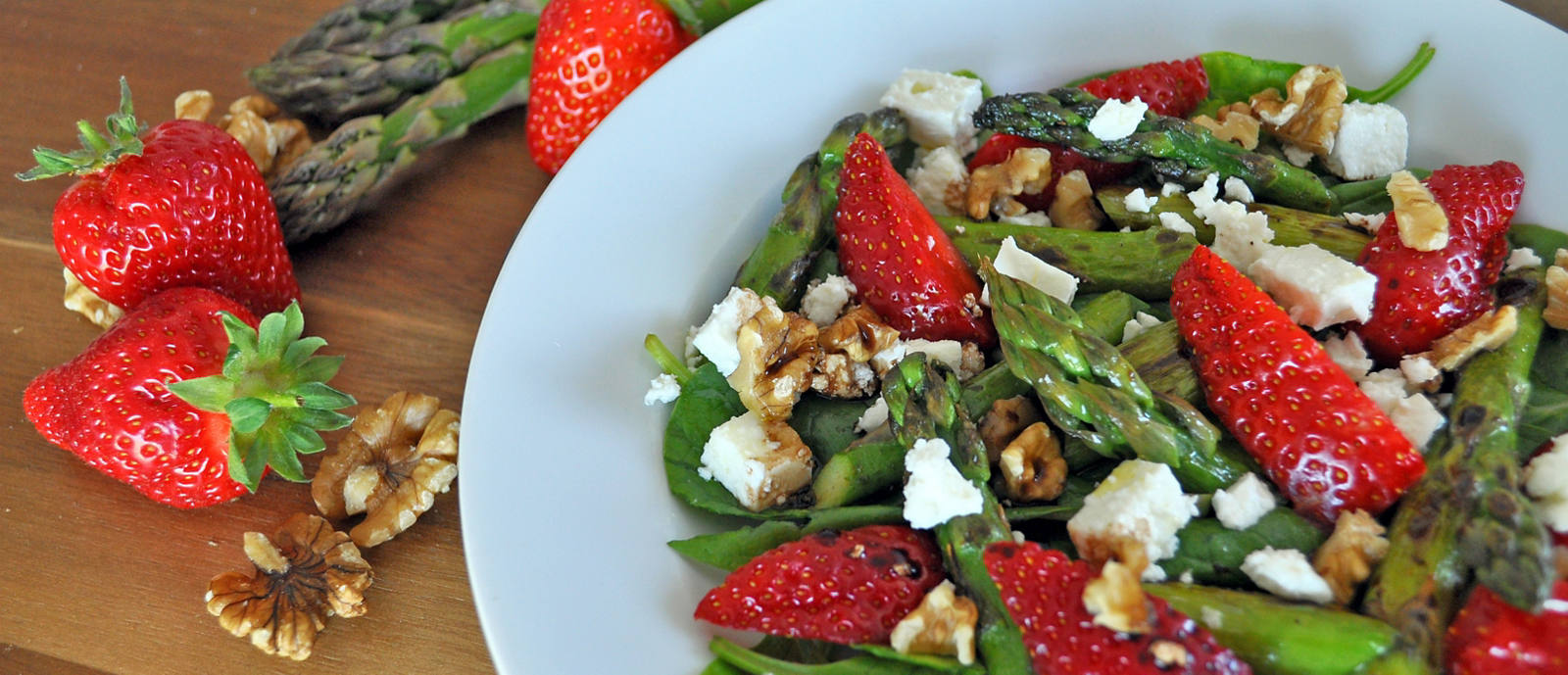 An early summer feast for the eyes and taste buds: the combination of strawberries, spinach and asparagus may sound odd, but it looks and tastes delightful.
Recipe for salad with strawberries and asparagus
This seasonal summer salad takes around 20 minutes to make. The following amounts serve four as a starter.

Nutrients per portion
| Calories | Protein | Fat | Carbohydrates |
| --- | --- | --- | --- |
| 174.0 Kcal | 6.0g | 14.0g | 5.5g |
Ingredients for 4 portions (starter)
1 bunch green asparagus
200g strawberries
2 handfuls tender spinach
1 handful walnuts
100g feta
2 tbsp. olive oil
1 tbsp. raspberry vinegar
1 pinch salt
1 pinch pepper

Method
First cut the woody ends off the asparagus and then cut the spears into pieces at a slight angle. Remove the stalks from the strawberries and cut the strawberries into quarters.
Heat a little olive oil in a large frying pan and lightly fry the asparagus pieces on a medium heat for about 8-10 minutes. Season with salt and pepper.
Roughly chop the walnuts. Make the dressing by mixing the olive oil with the vinegar, plus a little salt and pepper.
Tip: the walnuts can also be briefly roasted in the pan.
To serve, place the washed spinach in a bowl with the asparagus, strawberries and crumbled feta. Pour the dressing over the salad and sprinkle with the walnuts.
The health benefits of asparagus

Asparagus consists mainly of water and is therefore very low in calories. Despite its high water content, the precious vegetable – green or white – not only contains plenty of minerals, such as calcium and potassium, but vitamins too.
But please note: asparagus also has a diuretic effect. People with kidney problems should therefore eat it with caution.

Discover more easy and healthy recipes
Move more, eat better, live more mindfully – and grow healthier by the day. Our active365 app will help you.

Well looked after with CSS