Chestnut balls dipped in chocolate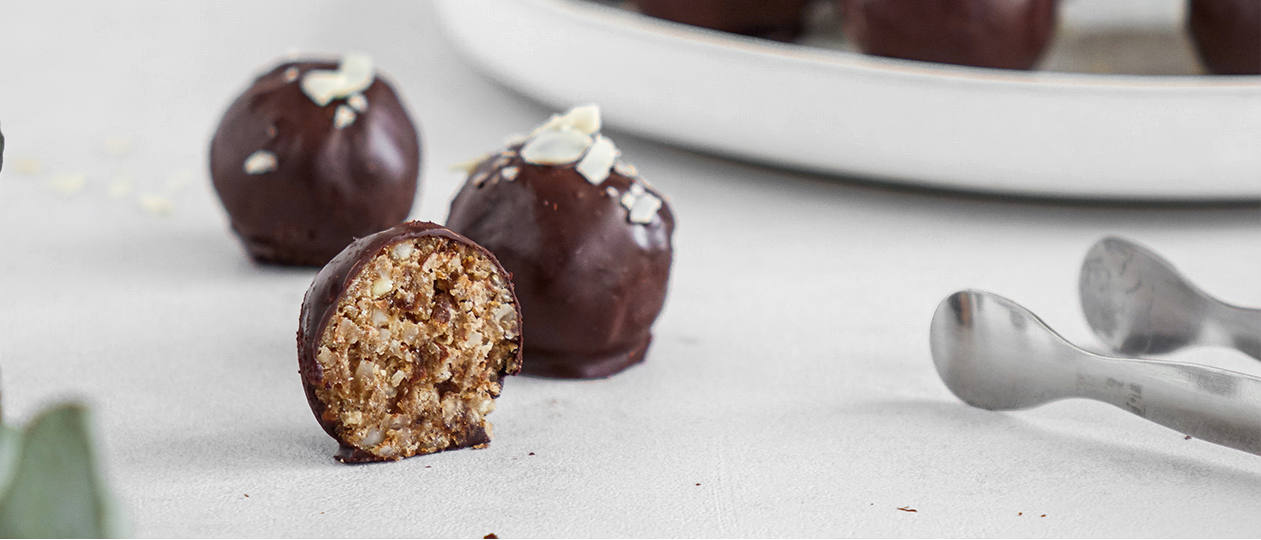 Chestnuts are a delicious, healthy and popular snack. This recipe for vegan and gluten-free chestnut balls is ideal.
Autumn kicks off the chestnut season

Almost no-one can resist the smell of roasted chestnuts and the good news is: you're advised to dig in. "Chestnuts are tasty, healthy and regional", says nutritionist Ewa Heimerdinger.
Recipe: vegan and gluten-free

The recipe makes approx. 24 vegan and gluten-free balls. Active preparation time is 40 minutes, plus 30 minutes for cooling.

Method for the chestnut mixture

Cook the frozen chestnuts in a little water for approx. 10 minutes until soft. Drain any leftover water and place the chestnuts in a powerful mixer. Add the almonds. Stone the dates and add with the cinnamon and ginger. Mix well for 1-2 minutes until you have a smooth and malleable mixture. With clean hands, form into walnut-sized balls, pressing firmly.

Ingredients for the chestnut balls

200g frozen chestnuts
70g chopped almonds
5 Medjool dates
1-2 tbsp. cinnamon
1 tsp. ginger powder

Optional: Chocolate covering

80g dark chocolate with Fleur de Sel
a few flaked almonds

Method for the chocolate covering

Roughly chop the chocolate and place in a bowl. In a pan, bring a little water to the boil and place the chocolate bowl in the pan. The water mustn't rise over the edge of the bowl. Reduce the heat to a 1-2 setting (water should no longer be boiling). Slowly melt the chocolate.

Serving & storage

Using a spoon and fork, carefully dip the chestnuts one-by-one in the chocolate and lay on a baking tray lined with baking paper. Decorate with flaked almonds if desired. Cool for at least 30 minutes.

Storage: they will keep in the fridge for at least 4-5 days.

Premiums for 2024 at a glance
Well looked after with CSS