A light couscous salad with antipasti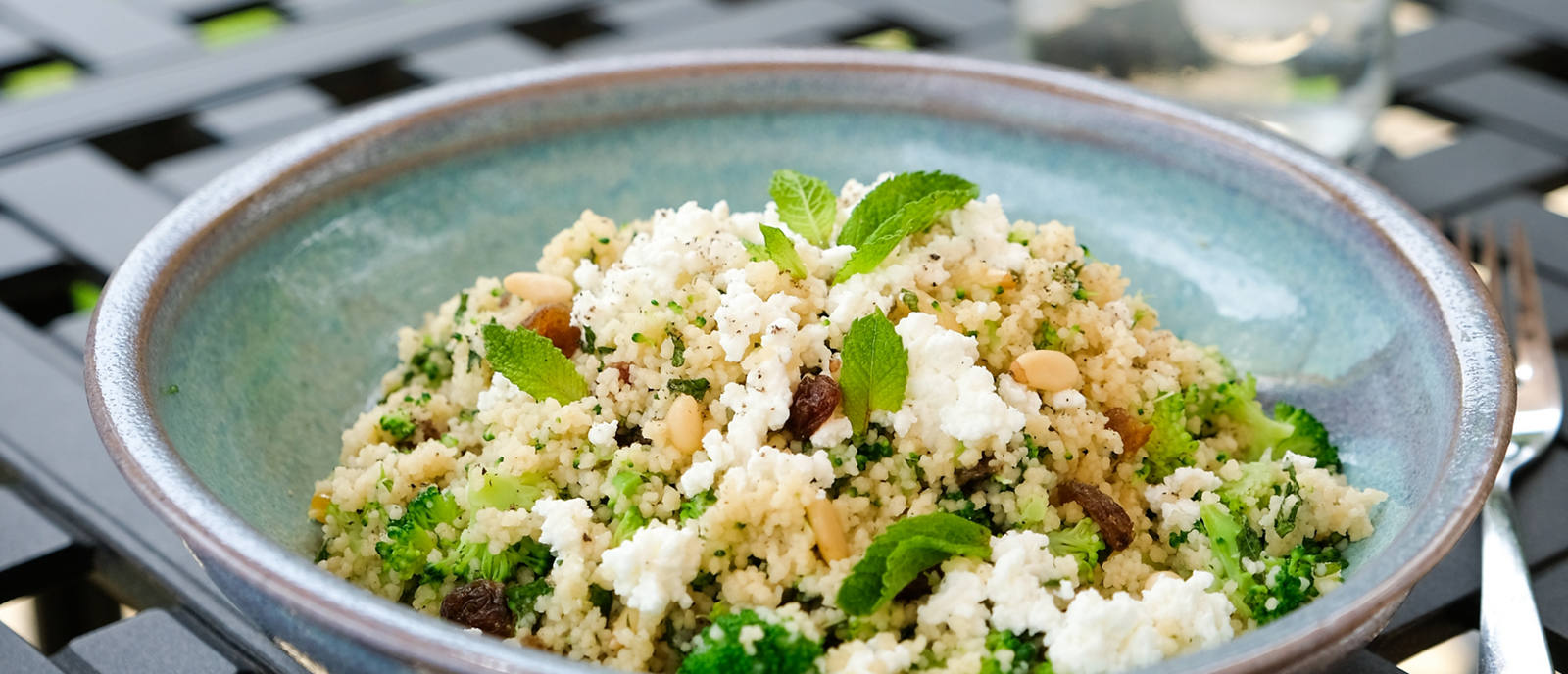 Especially in summer, a refreshing couscous salad with vegetables is a tasty alternative to the ubiquitous pasta or rice salad. And the best thing about it? It's quick and easy to concoct.
A light salad for warm summer days

After a long day of fun in the sun, grabbing a plate of fast food will often feel like the most tempting alternative to cooking, washing up and tidying the kitchen. But what's the best way of cooking a good alternative without going to a lot of trouble? Couscous salad is a great – and simple – idea for warm summer days.

Why couscous is healthy
It's a good source of healthy fibre and boosts gut health.
It's rich in selenium, a trace element that activates the thyroid hormones and the immune system.

As a source of plant protein it promotes the transport of oxygen.
Couscous salad recipe with antipasti

The recipe is calculated for four and can be served with additional vegetables if required. For an extra boost of vitamin C, for example, add another pepper.

Basic ingredients

800ml vegetable stock (3 cups)
400g couscous (1.5 cups)
200g feta
antipasti (e.g. olives, dried tomatoes)
raw vegetables (e.g. cucumbers, bell peppers)

Ingredients for the low-calorie sauce

2 tbsp. olive oil (if the antipasti are preserved in oil, use this oil instead)
1 tbsp. lemon juice
dried herbs
pepper and chilli powder

Method

Pour the vegetable stock over the couscous and let it sit until the liquid is absorbed (approx. 5 minutes).

Cut the antipasti, raw vegetables and feta into small pieces and mix into the couscous.

Mix a dressing of olive oil, lemon juice, herbs and spices into the salad.

Leave the salad to develop its flavours (approx. 10 minutes).

Enjoy.

Meal prepping: clever planning & cooking ahead

The best thing about a couscous salad besides the health aspect is that it's also quick to make and stores well. Kept in a cool place, it will stay fresh for a long time and can be easily packed in a tupperware to take to the office or pool.

Premiums for 2024 at a glance
Well looked after with CSS