Smoothie bowl: the quick mood booster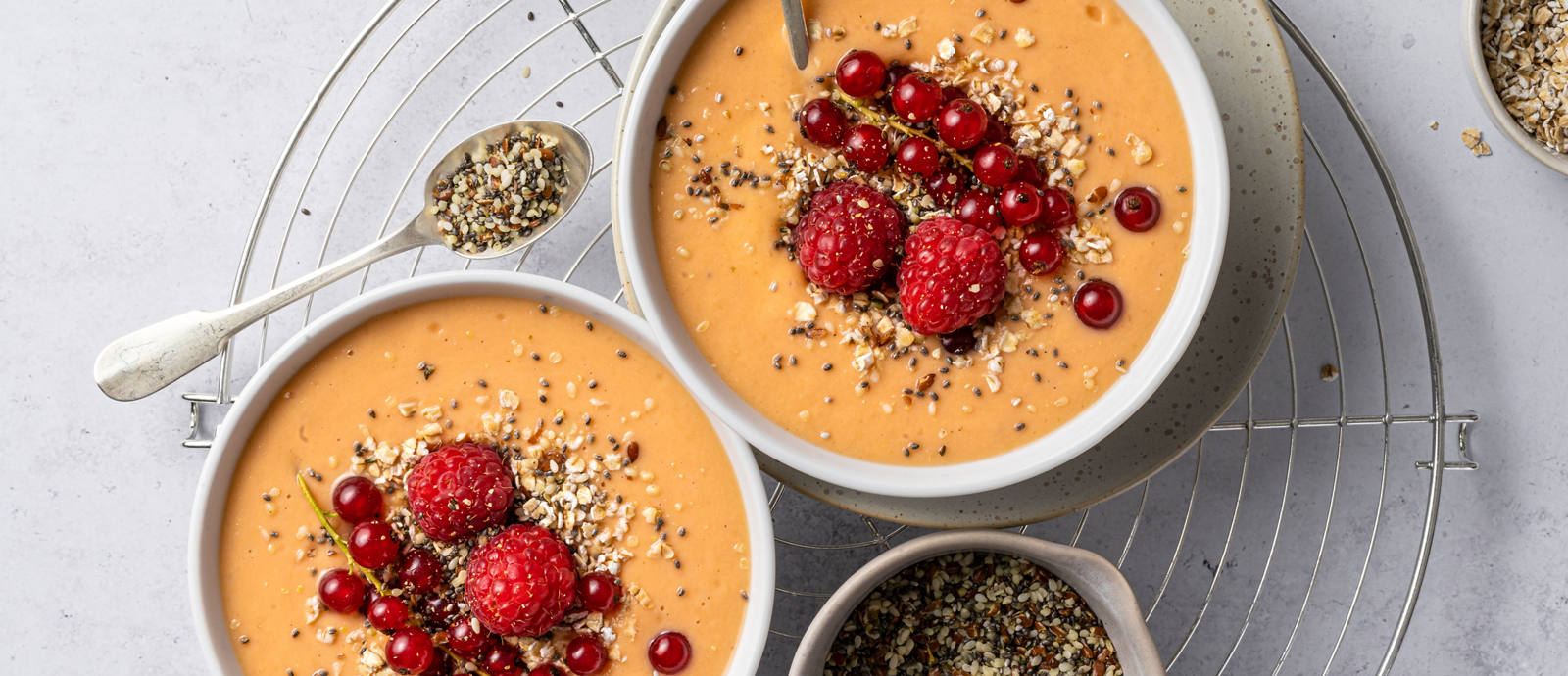 A bad mood, digestive issues, water retention. Sometimes we just don't feel comfortable in our own bodies. But this doesn't have to be the case. The feel-good smoothie bowl eases a wide range of symptoms and will help put a smile on your face again.
Smoothie bowl as a natural mood booster

A bad mood and low spirits can be quickly dispelled with what's known as feel-good food or mood food. One example is the feel-good smoothie bowl with a seed topping. It's quick to make and can help lift your mood the natural way. This is due to the ingredients it contains.
Feel-good smoothie bowl with seed topping

The easy recipe makes four bowls. Preparation takes around ten minutes. Perfect for when time is short.

Ingredients

3 ripe bananas, sliced
1 pineapple, in pieces
2 large carrots, sliced
2X2cm ginger, finely cut
500g plant-based yoghurt

Topping

1 tbsp. sesame seeds
1 tbsp. hemp seeds
1 tbsp. ground flaxseed
1 tbsp. chia seed
4 tbsp. oats
1 handful fresh berries

Method and garnish

Blend bananas with pineapple, carrots, ginger and yoghurt in a high-powered blender until smooth.
Divide the smoothie mixture into bowls.
For the seed mix topping, place all the seeds in a bowl and mix well, then sprinkle over the bowls.
Garnish with oats and fresh berries.

Vitamin B makes us happy

Oats are good for our mood as they contain B vitamins that boost the production of the happiness hormones serotonin and dopamine. In addition to oats, ginger also makes us happy as it serves to raise serotonin levels too. The pale yellow root also gets rid of headaches and migraines and relieves menstrual symptoms.

Help with premenstrual syndrome

During the fourth cycle phase, the luteal phase, many women struggle with premenstrual syndrome. Symptoms include pain in the lower abdomen, swollen legs and irritability. To counteract these symptoms, women should make sure they get a sufficient supply of vitamin B, especially in the time leading up to menstruation. Besides oats, other good sources of vitamin B include seeds, pulses and wholemeal products.
Omega-3 for a better mood

Chia seeds, flaxseed and hemp seeds form the topping on the feel-good smoothie bowl. The special thing about these seeds is that they all contain a lot of omega-3. Omega-3 fatty acids brighten our mood because they boost the effect of the happiness hormones serotonin and dopamine. They also boost the blood supply to the nerve cells.
The almost magical effect of beta-carotene

Another ingredient in the smoothie bowl with health-promoting properties is carrots. Carrots contain beta-carotene – a precursor to vitamin A – and this benefits the body in a number of ways:

It delays the ageing process.

It ensures the function of the visual organ.

It strengthens the immune system.

It protects us from medical conditions like arteriosclerosis.

All in all, the carrots in the smoothie bowl help create an all-round feel-good feeling.

Well looked after with CSS