Recipes for ringing the changes at the breakfast table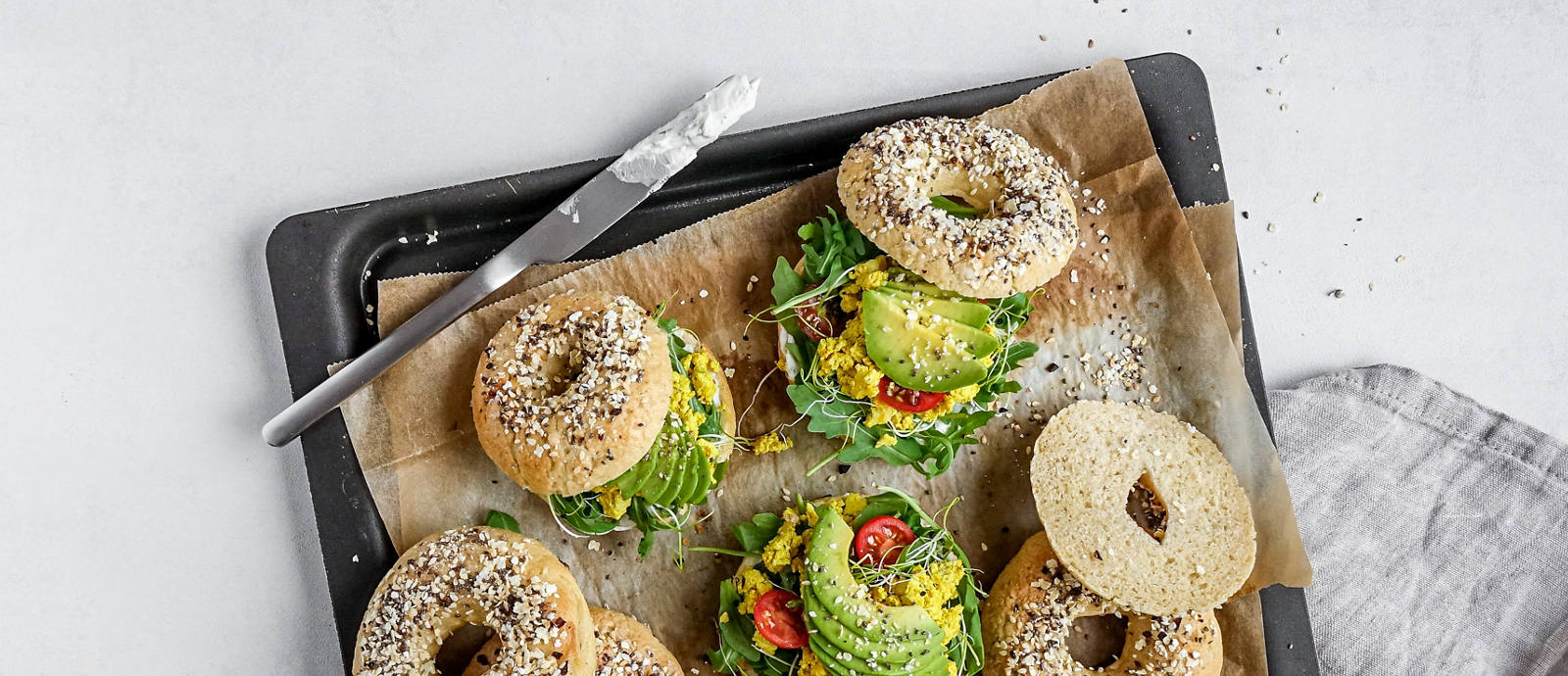 Good news for early birds and late risers alike: breakfast menus today have something for everyone. Old Swiss classics like bread, butter and jam, or rösti and fried eggs are no longer the only contenders for first place.
Breakfast: get the day off to a good start

The secret to the perfect start to the day lies in taking the time to make breakfast yourself. If you can enjoy the first meal of the day in a pleasant atmosphere, the day has already started well. And for all those who 'breakfast on the go', there are many practical and simple ways of benefiting from a home-made breakfast.

Prepare over night

A little planning is required as they are best made the night before. One example is to fill preserving jars with overnight oats or yoghurt with granola. This will help you start the day relaxed, well nourished and in the best of moods. After all, good food lifts our spirits and keeps body and mind in shape.

The good old (Sunday) brunch

For all breakfast lovers and late risers, brunch – the combination of breakfast and lunch mostly eaten late morning – is the meal of all meals. And there's no end to the creativity and experimentation in the kitchen it allows. All the better if you can't decide between sweet or savoury – especially as the aim of the popular weekend brunch is to offer an extensive buffet with plenty of choice. This keeps everyone's taste buds happy and makes the gathering even more enjoyable.

Bagels – the new favourite

Changing times have led to lots of exciting new flavours and innovative breakfast ideas. Leading the way are fruity smoothie bowls (e.g. acai bowls), various pancake options and avocado toast.

Millet bagels with tofu scrambled egg

This vegan bagel recipe serves 4 persons as a main course. It takes 60 minutes to prepare, or 2 hours and 30 minutes if you include rising and baking. While this may sound like a lot, it's definitely worth it.

Bagels ingredients (makes 8):

250g millet flakes
250g spelt flour
1 tbsp. salt
1 pack dry yeast
300ml water (lukewarm)
1 tbsp. olive oil
1 tbsp. agave syrup
2 litres salted water

1 tbsp. onions (dried)
1 tbsp. millet flakes
1 tbsp. sesame seeds
1 tbsp. chia seeds
1 tsp. salt (coarse)
Bagels method

Place the millet flakes, flour, salt and dry yeast in a bowl and mix. Combine the liquid ingredients and add to the flour mixture. Knead for 10 minutes until you have a soft and smooth dough. Cover and leave to rise at room temperature for at least 1.5 hours until doubled in size.
Topping mix: Place all the ingredients in a bowl, mix and set aside.

Form the bagels

Take the dough from the bowl and divide into 8 equal-sized pieces.
Form each into a ball and use the handle of a wooden spoon to press a hole in the middle of each one. Then stretch each bagel with your hands until the hole is around 4cm in diameter.
Cover and leave to rise for another 20 minutes.
Bring the salted water to the boil. Lower to a simmer and place 2-3 bagels into the water at a time. Cook for 1 minute on each side.
Remove with a slotted spoon, drain well, place on an oven tray lined with baking paper.
Scatter with the topping.
Baking

Preheat the oven to 220 degrees and bake in the middle of the oven for about 20 minutes. Remove, leave to cool on a rack, and cut open.

Make the filling

Take the tofu out of its packaging, drain and pat dry with kitchen paper. Crumble with your hands. Heat the olive oil in a pan and add the tofu. Add the curry powder, turmeric, mustard and spices, mix well, and fry for 3-4 minutes.

To serve: Spread the cut surfaces of the bagel with cream cheese. Layer the other ingredients. Season if necessary and serve immediately.

400g tofu (natural)
1 tbsp. olive oil
1- 2 tbsp. curry powder
1 tsp. turmeric
1 tbsp. mustard (hot)
1/2 tsp. salt/pepper
50g rocket leaves
3-4 tbsp. sprouting seeds
1 avocado (sliced)
6-8 cherry tomatoes (halved)
4 tbsp. cream cheese (vegan)

Recipe for a chocolate and coffee smoothie with hazelnut

You don't always have to choose between a flat white and a hot chocolate. The vegan chocolate and coffee smoothie combines both and is ready in 10 minutes.

Ingredients

800ml rice drink (with hazelnut)
2 shots espresso
2 tbsp. cacao powder
2 tbsp. hazelnut butter
1- 2 tbsp. chia seeds
4 Medjool dates (stoned)
50g hazelnuts (chopped)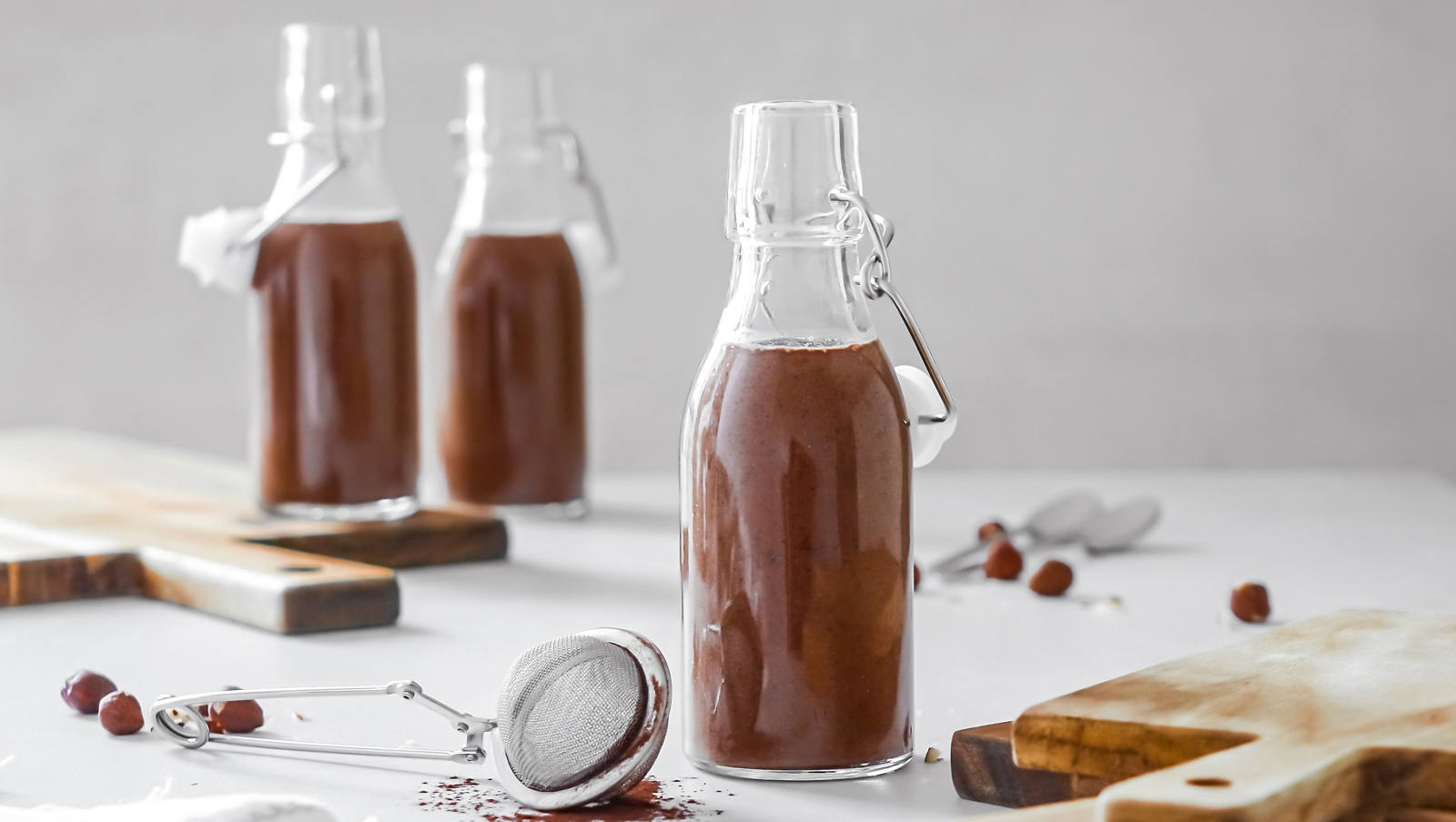 Smoothie method

Place all the ingredients in the listed order in a powerful blender and blend to a creamy smoothie.

Special tip: warm option

The smoothie can be enjoyed warm or cold. For the warm option: prepare the smoothie as above and then heat in a pan, stirring constantly. Shortly before boiling, remove from the heat and pour into cups. Serve hot.

Well looked after with CSS