Savoy cab­bage with nutty feta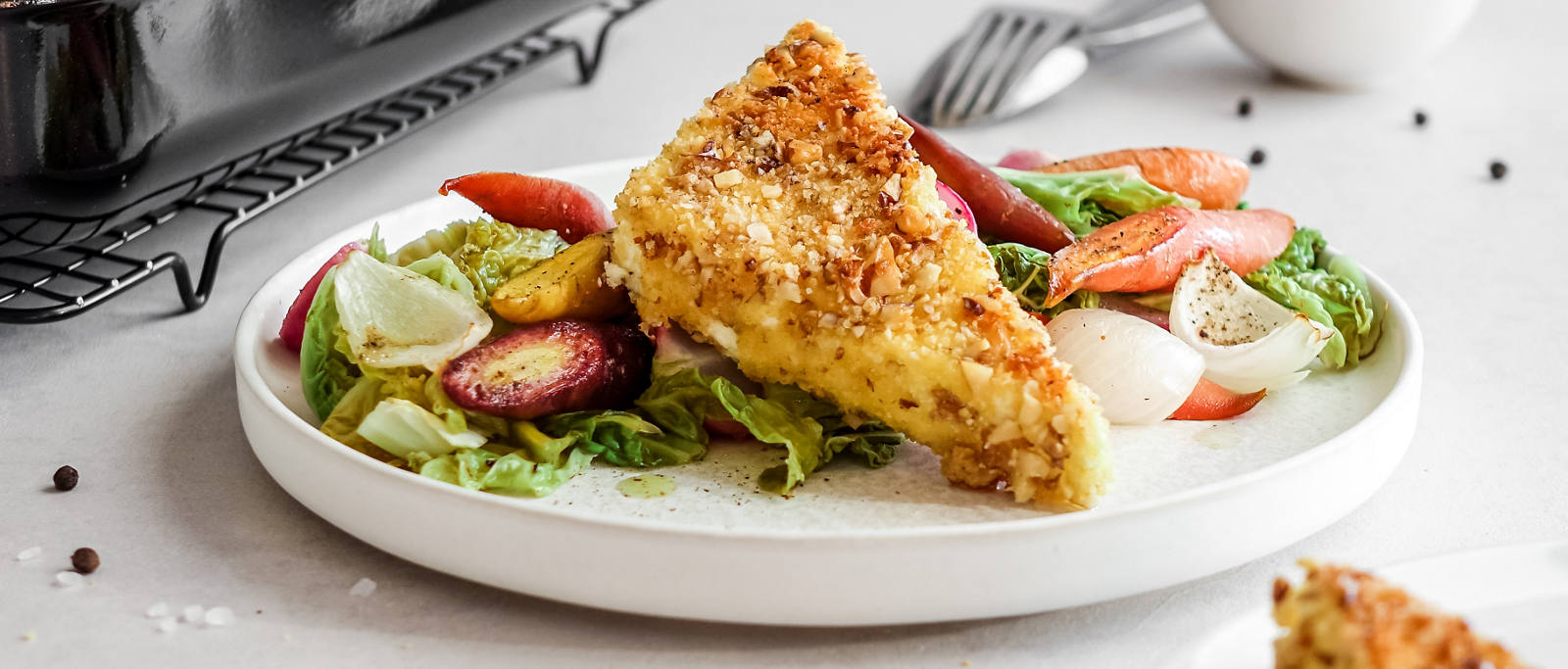 Cabbages aren't usually considered easily digestible. But cooked properly, Savoy cabbage not only becomes delicious, it also supplies the body with healthy nutrients.
Savoy cabbage: the natural immune booster

Savoy cabbage is a healthy, regional winter vegetable and packs a punch. A look at the substances it contains is enough to confirm this. With its low calorie content and high nutrient density, this cabbage is also an excellent source of fibre. In addition to containing lots of various vitamins, bitter substances and antioxidants, Savoy cabbage also provides the body with high-quality vegetable protein.

Cooking for easy digestion

Stuffed cabbage parcels or cabbage and potato gratin are the classic dishes made with Savoy cabbage. But it can also easily be eaten raw. It makes a wonder­ful addition to an autumnal salad and can also be included in a smoothie. Like most types of cabbage, not everyone tolerates it equally well. People who react sensitively to cabbage are advised to blanch it lightly and eat it together with caraway, anise or fennel, according to taste. This makes it easier to digest and ensures that it can be enjoyed with no adverse consequences.

Recipe for Savoy cabbage with nutty feta

The recipe serves 3-4 and is on the table in 45 minutes. Active preparation takes around 20 minutes.

Savoy cabbage ingredients

400g Savoy cabbage
300g colourful carrots
5-6 radishes
1 onion
2 tbsp. olive oil
1/2 tsp. herb salt
a little pepper
Savoy cabbage method

Pre-heat the oven to 180 degrees on the upper-lower heat setting. With the core removed, quarter the cabbage and slice thinly. Place in a coated ovenproof dish. Wash the carrots (peeling is optional) and cut into diagonal slices. Halve the radishes. Spread both over the Savoy cabbage. Peel and quarter the onion and spread over the other vegetables. Drizzle the oil over the vegetables, season and roast in the lower half of the oven preheated to 180 degrees for about 25-30 minutes until cooked.

Nutty feta method

Remove the feta from its packaging and pat dry with kitchen paper. Halve the feta diagonally. Take two shallow dishes and place the beaten egg in one and flour in the other. Finely chop the walnuts and place in another shallow dish with the breadcrumbs. Taking each piece of feta at a time, dip in the flour and shake off the excess. Then dip the feta in the egg and finally in the breadcrumb mix. Press the breadcrumb mix into the cheese and fry in a little oil on both sides for 3-4 minutes over a medium heat.

Ingredients

2 pieces of feta
3 tbsp. spelt flour
1 egg
3 tbsp. walnuts
3 tbsp. breadcrumbs
a little oil for frying

Health insurance premiums at a glance
Well looked after with CSS