The healthy snack: make your own vegetable crisps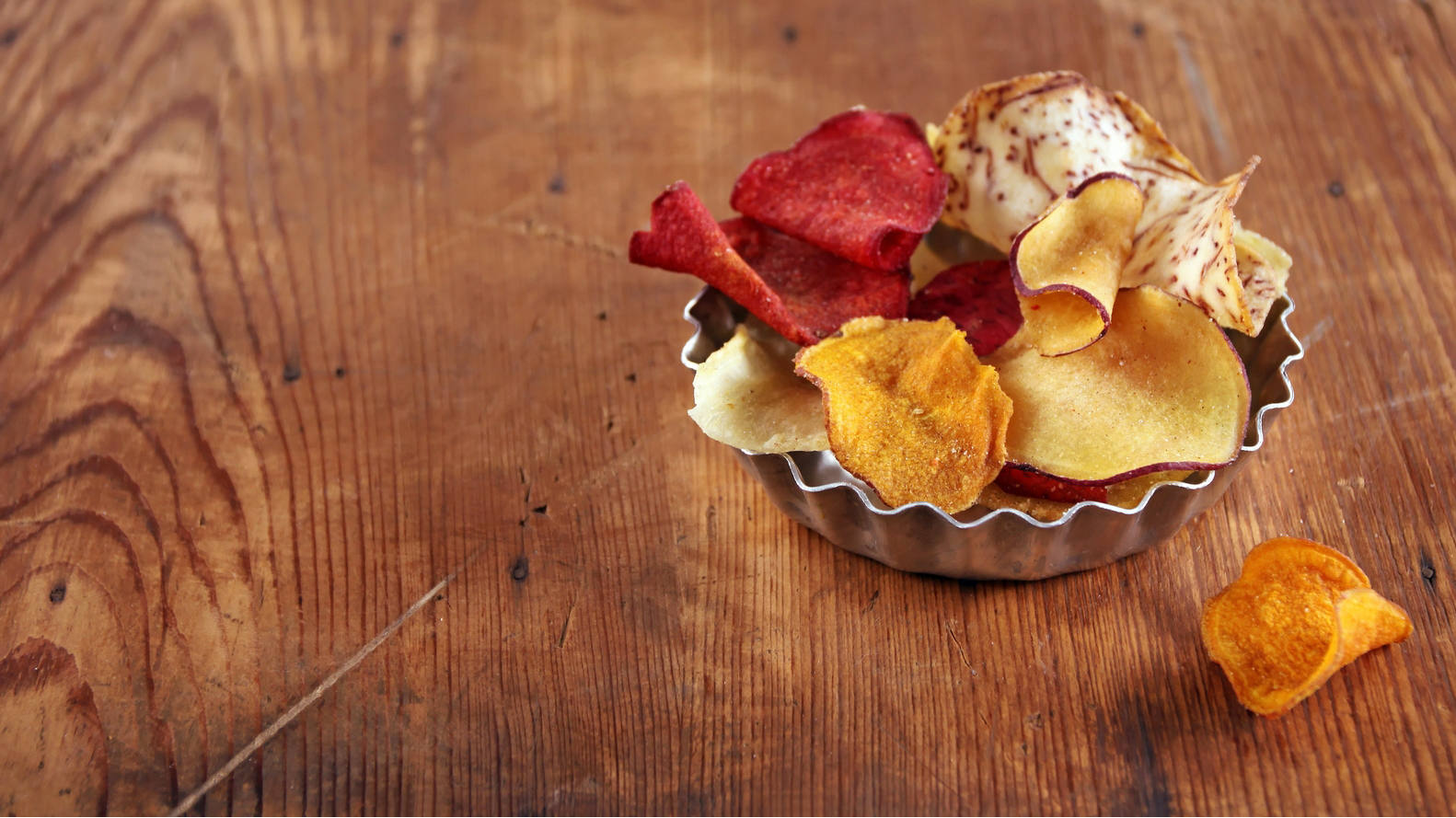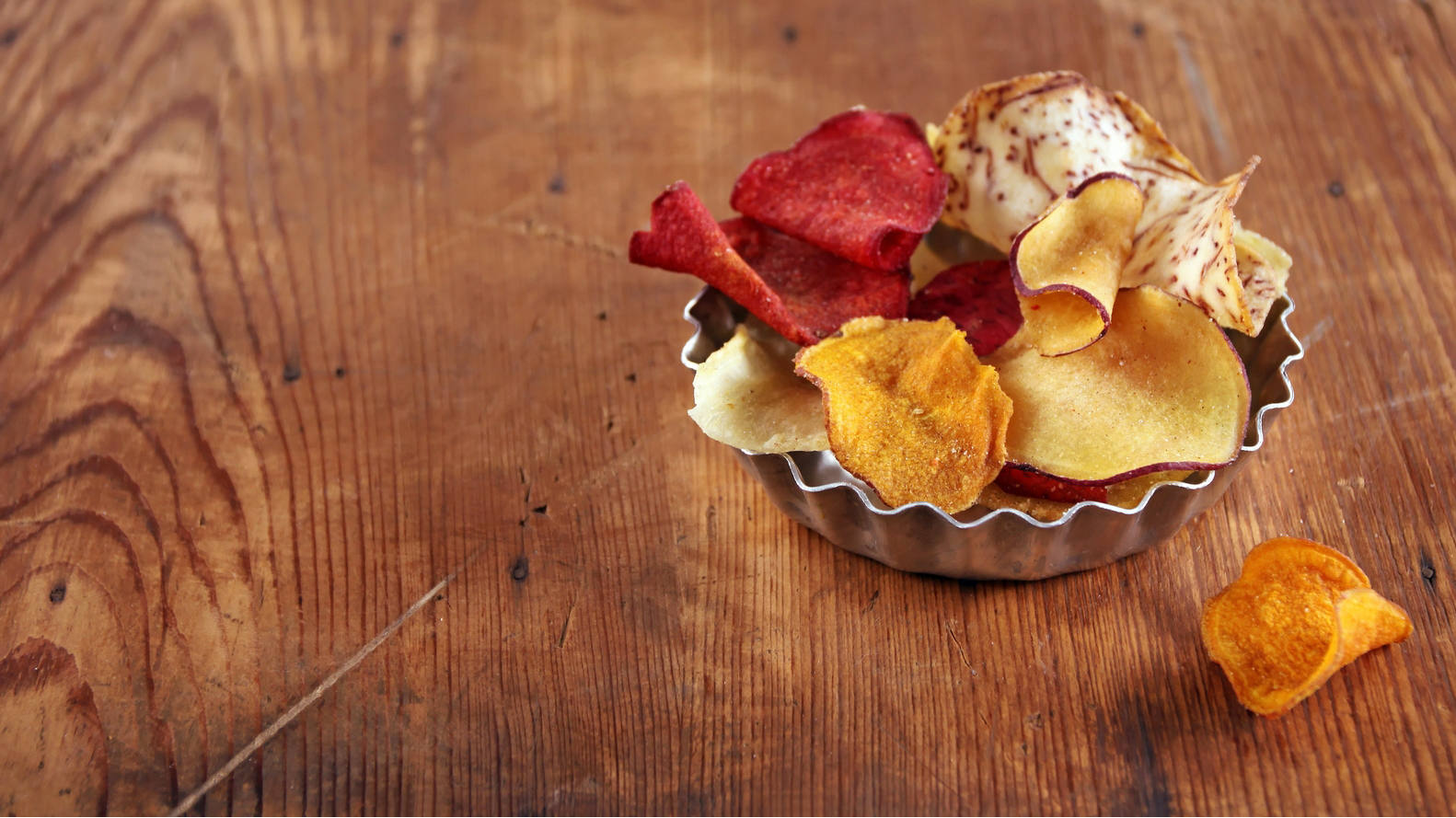 We love drinks and snacks. You too? Whether meeting with friends and family or sharing a romantic evening for two, add some healthy snacks for a change.
Surprise your guests with crunchy vegetable crisps – vegan and without any artificial flavourings or enhancers. We show you how – because everybody loves crisps.

The sky's the limit when it comes to creating healthy vegetable crisps. We suggest combining vegetables of different colours, as eating also has to be a visual pleasure.

Potatoes or sweet potatoes
Beetroot
Courgettes
Carrots (maybe mixed with yellow Palatine carrots)
Parsnips
Radish
Savoy cabbage
Kale (very trendy)
Pumpkin
Chickpeas, etc.

Make your own vegetable crisps

Vegetable crisps are quick to make, crispy, tasty and light. You don't even need a deep fat fryer as they can be baked until crunchy in the oven. Or do you have a dehydrator? Then you can make them without fat.

Wash the vegetables and peel them, if necessary (use baby carrots with their skin).
Cut the vegetables into very thin slices – it's easier to use a vegetable slicer or breadcutter. The thinner the slices, the crunchier the crisps.

Seasoning: Sea salt, herbs, paprika, curry, chilli, sesame, etc. to taste.
Oil: Olive, rapeseed, sunflower or peanut oil – high-quality oil improves the taste of the crisps. Our tip: Add a little vinegar to the oil for a surprising result.
In the oven – easy and low-fat
Mix the sliced veggies with a little oil in a bowl
Lay them individually on an oven tray lined with baking paper
season
bake at 110° to 130°C for 45 to 60 minutes

Chickpeas: at 200°C for around 45 minutes
Deep fat fryer – even crispier
Heat some oil (sunflower, rapeseed or peanut oil) to 165° to 175°C in a deep fat fryer or non-stick pan
Important: constantly monitor the oil temperature.
Fry the vegetable crisps in small batches and leave them to drain on kitchen paper. The oil can be re-used several times.
Dehydrator – completely without fat
Evenly spread the vegetables on the dehydrator tray
dry them for 6 to 7 hours at approx. 40°C

What goes well with these crisps? We recommend home-made tomato sauce, guacamole or a light dip.

1 onion
500 g pelati (i.e. peeled whole) tomatoes
Piece of ginger,  1cm
1 garlic clove
60 ml red wine vinegar
25 g sugar

Chilli, cloves, fennel and coriander seeds to taste. You can also use less sugar.

(approx. 50 minutes)

Braise the onions in a pan for approx. 15 minutes.
Ground the fennel and coriander seeds and cloves in a pestle and mortar.
Add the ginger, garlic and chilli to the onions in the pan, then add the fennel and coriander seeds and the cloves. Season with salt and pepper, if necessary.
Add the tinned tomatoes, vinegar and sugar, and simmer on a medium heat for approx. 30 minutes.
Blend in the mixer, press through a sieve, leave to cool then serve.

Well looked after with CSS