Native superfood buck­wheat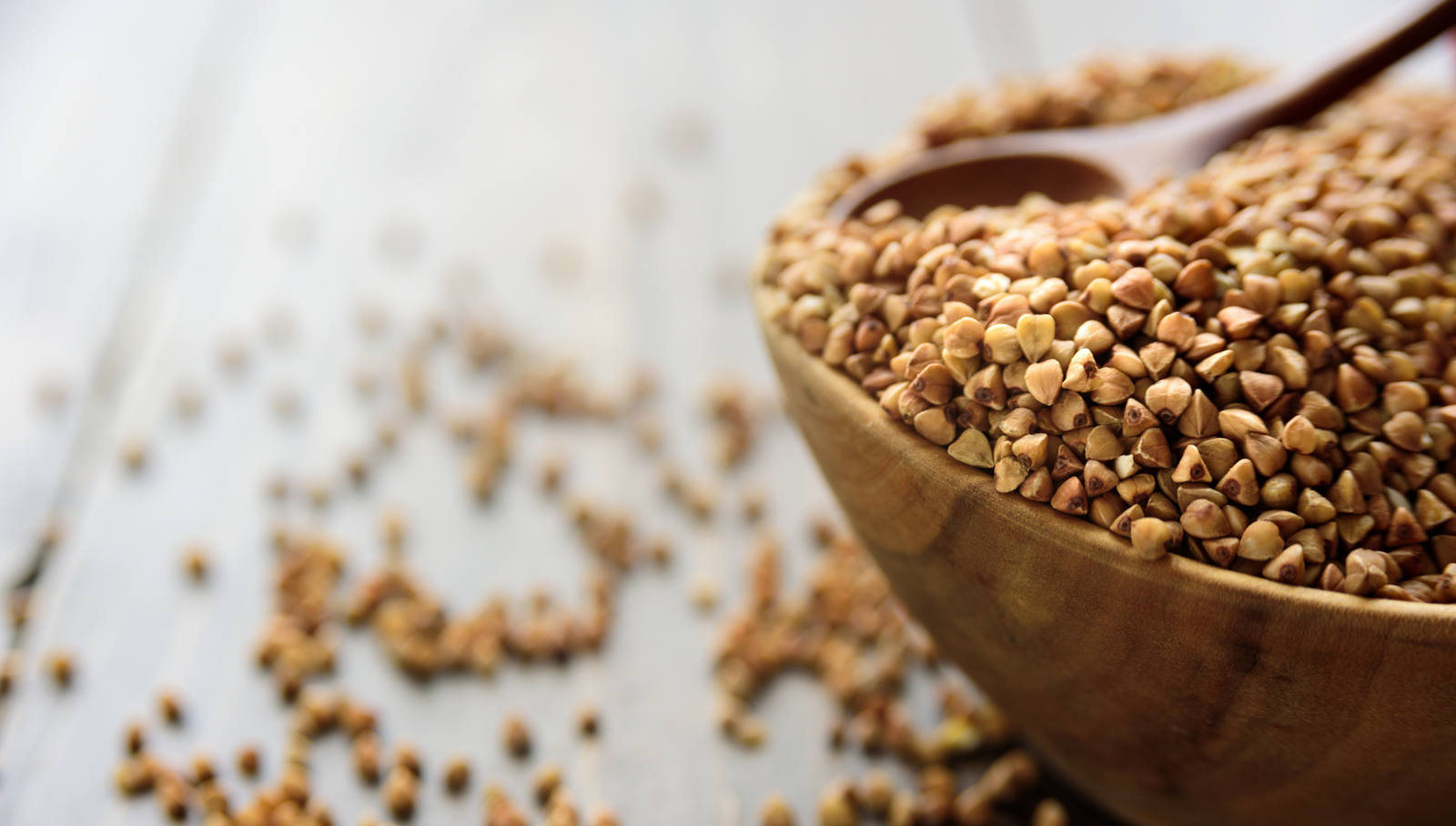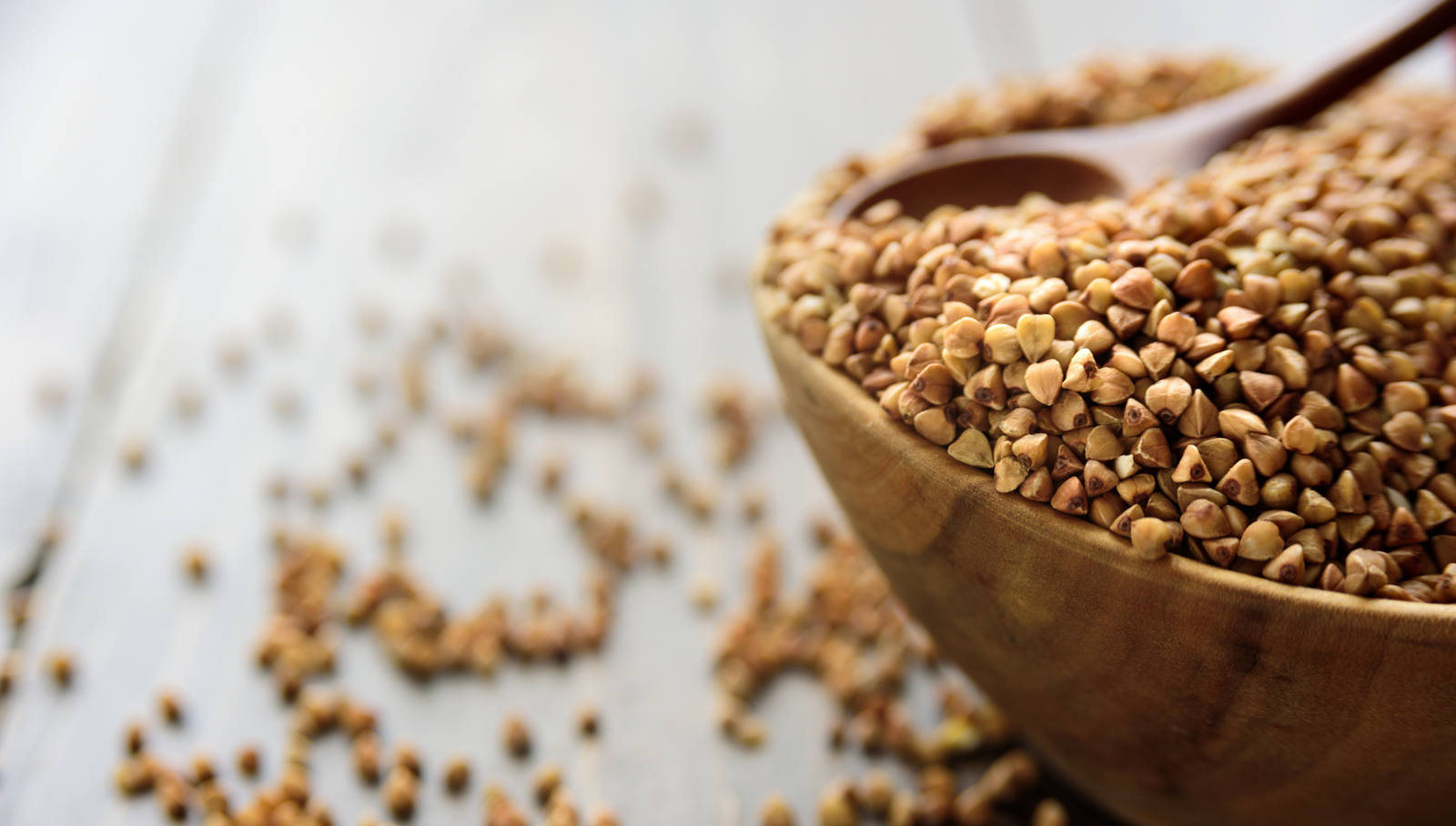 The wheat that isn't: buckwheat, a pseudocereal, is not only gluten-free but also full of vitamins, minerals and valuable protein. In meal plans dominated by wheat, this native superfood provides a healthy variation.
Morning, lunchtime, evening
With their muesli in the morning, pasta at lunchtime, cake in the afternoon and bread in the evening, the Swiss consume an average of 90 kilograms of cereals a year. 60% of the cereal products consumed consist of wheat. But – other native crops provide alternatives. Buckwheat, for example.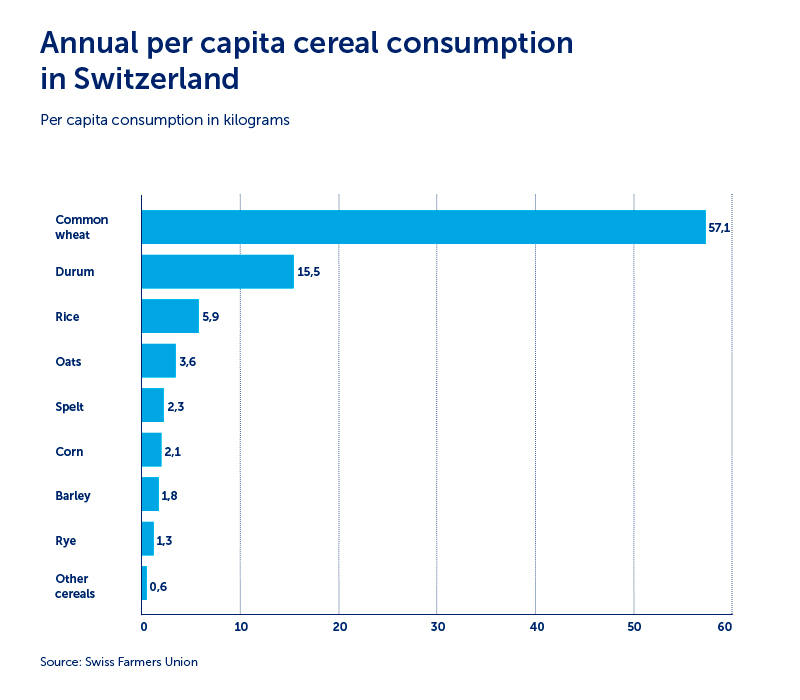 Origin

Buckwheat's name is misleading as it's not a cereal but, like sorrel or rhubarb, belongs to the native knotweed plants. Like quinoa and amaranth, the pseudo-cereals from Latin America, buckwheat does not contain gluten.

What makes buckwheat so healthy?

Gluten-free is essential for people who suffer a reaction to gluten or even intolerance – known as coeliac disease. For these people, buckwheat is a good cereal substitute. But buckwheat is also healthy for those who can eat anything, as the seed contains:

fibre, which aids digestion,
minerals and trace elements such as magnesium and copper,
vitamin E, vitamin B1, B2,
and valuable protein from all eight essential amino acids.

Buckwheat can also lower the body's blood sugar level. Its flowers and leaves contain rutin, which can boost blood circulation.

What can you cook with buckwheat?

Because buckwheat doesn't contain gluten, it doesn't rise during baking. However, there are plenty of recipes for cooking with this healthy pseudocereal. Buckwheat can be used in the form of

sprouts
whole grains, roasted or cooked
semolina or groats
flakes
flour

Depending on what takes your fancy, buckwheat can be integrated into your everyday meals in a wide variety of ways. For example: buckwheat sprouts can be sprinkled over salads or mixed into muesli. Roasted buckwheat grains go well with yoghurt or in soup. Cooked in salt water, buckwheat grains can also be served with meat or fish dishes. Well-known forms of buckwheat pasta are the Graubünden pizzocheri and Japanese soba noodles. Buckwheat flour can be used to replace half of the wheat flour in traditional recipes. This is the case with chnöpfli, for example:
Buckwheat chnöpfli
Ingredients for 4 persons
200 g chnöpfli flour
200 g buckwheat flour
4 eggs
150 ml water
150 ml milk
1 tsp. salt

Method
Mix the flour, eggs, water and milk until air bubbles appear in the dough. Press the dough through a spätzle sieve or grater into a pan of boiling salted water. Cook for 2-3 minutes. Serve warm with butter.

Buckwheat crepes, the traditional Breton dish
Ingredients for 12 persons
300 g buckwheat flour
1 tbsp. coarse salt
0.5 - 0.75 litre water

Method
Place the flour in a bowl, add salt and water. Mix with a whisk. Leave to stand for at least 30 minutes. Beat well again and then cook in a non-stick pan. Add a topping such as ham, spinach or fondue cheese.

Buckwheat risotto
Ingredients for 4 persons
2 onions
2 garlic cloves
400 g buckwheat grains
300 g mushrooms
2 pears
chives
200 g bacon rashers
1 - 1.2 litres chicken stock
1 tbsp. sugar
walnuts
olive oil
salt and pepper
grated Parmesan cheese

Method
Chop onions and garlic finely and sauté in olive oil. Rinse buckwheat grains in cold water and add to pan. After around a minute, add the chicken stock. Bring to the boil and simmer on a medium heat for around 15 minutes. Fry the bacon rashers in a non-stick pan and remove. Brown the sliced mushrooms and season with salt and pepper. Add the mushrooms to the buckwheat risotto. Clean the pan and brown the pear slices together with the walnuts. Sprinkle with sugar to caramelise. Add the Parmesan cheese to the buckwheat and serve the risotto on plates. Garnish with pear, bacon, walnuts and chives.
Buckwheat salad
Ingredients
150 g buckwheat grains
2 - 3 oranges
1/2 lemon
1 garlic clove
0.8 litre water
1 tbsp. honey
100 - 150 g feta
salt
olive oil

Method
Finely chop the garlic and parsley. Juice half the lemon. In a bowl, mix the garlic, parsley, lemon juice, honey and salt with olive oil. Cut the feta into pieces, add, and leave to stand for at least an hour.
Wash the buckwheat grains with cold water. Bring the water to the boil in a large pan and add the buckwheat. Simmer on a medium heat for around 15 minutes. As soon as the grains are al dente, place the buckwheat in a sieve and run under cold water to shock.
While the buckwheat grains are simmering, segment the oranges, retaining the juice. Mix well with salt and olive oil. Add the buckwheat to the juice and oil mixture and mix well. To finish, scatter the orange segments and feta cheese over the buckwheat salad.

Beef tartare with miso hollandaise and puffed buckwheat
Ingredients
Für das Tartar:
250 g Rinderfilet
Etwas Rapsöl 
Geschnittener Schnittlauch
Salz 
Zitronenabrieb
Für die Miso Hollondaise:
2 Eigelb
15 g Reisessig
50 g helle Miso Paste
120 g lauwarme geklärte Butter

Für die gepuffte Buchweizen:
200 g Buchweizen
1 Liter Wasser
10 g Togarashi oder Chiliflocken

Method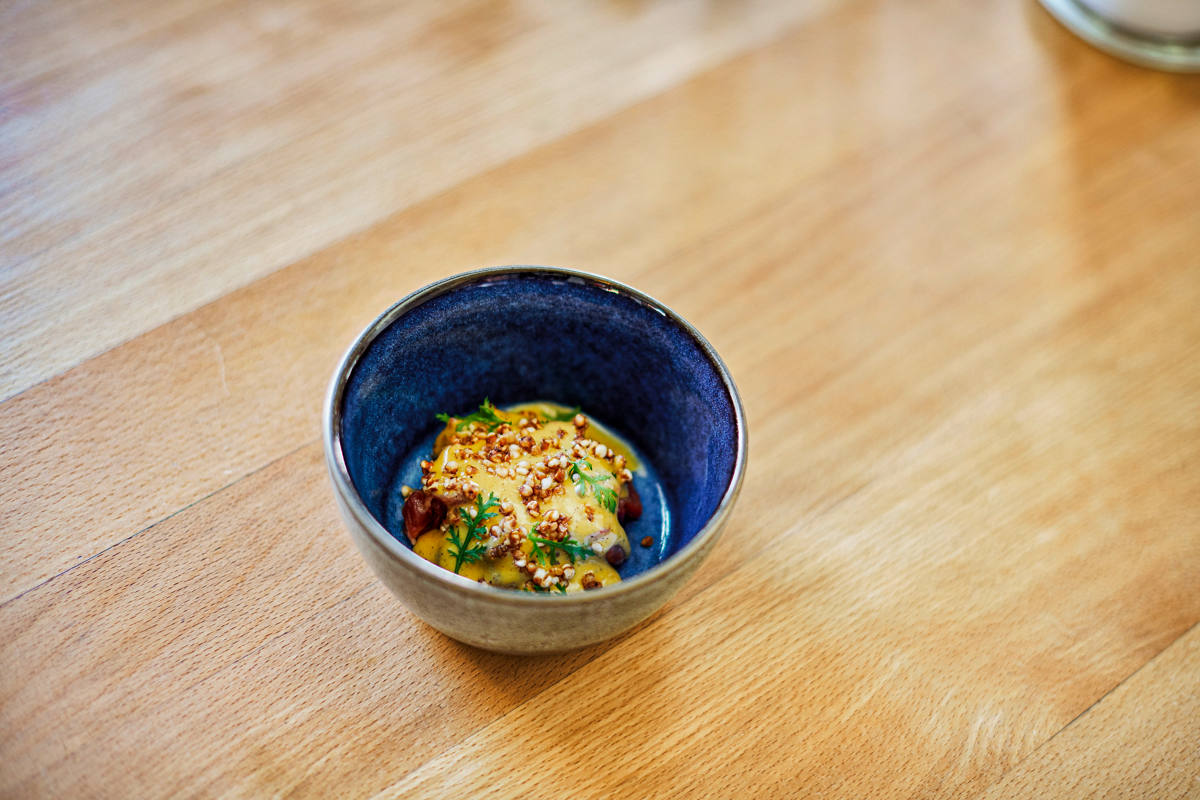 Buchweizen in einen Topf mit Wasser weichkochen, passieren und ausdampfen lassen.
Gleichmässig auf einem Backblech verteilen für 9h bei 65 Grad trocknen, oder bis vollständig trocken.
Bei 200 Grad in Sonnenblumenöl puffen, auf einem Küchenpapier abtropfen. Leicht salzen und mit Togarashi würzen.
Rindsfilet in gleichmässige Würfel schneiden mit Rapsöl, Salz und Zitronenabrieb marinieren.
Auf einem Wasserbad Eigelbe, Reisessig und Miso Paste schaumig schlagen.
Geklärte Butter in dünnem Strahl nach und nach beigeben. 
Tartar in Tellern verteilen, Miso Hollondaise darauf verteilen und mit knusprigem Buchweizen anrichten.
Beef tartare with miso hollandaise and puffed buckwheat
Ingredients
For the tartare:

250 g beef fillet
a little rapeseed oil
cut chives
salt
lemon zest

For the miso hollandaise:

2 egg yolks
15 g rice vinegar
50 g white miso paste
120 g clarified butter, room temperature

For the puffed buckwheat:

200 g buckwheat grains
1 litre water
10 g togarashi or chilli flakes

Method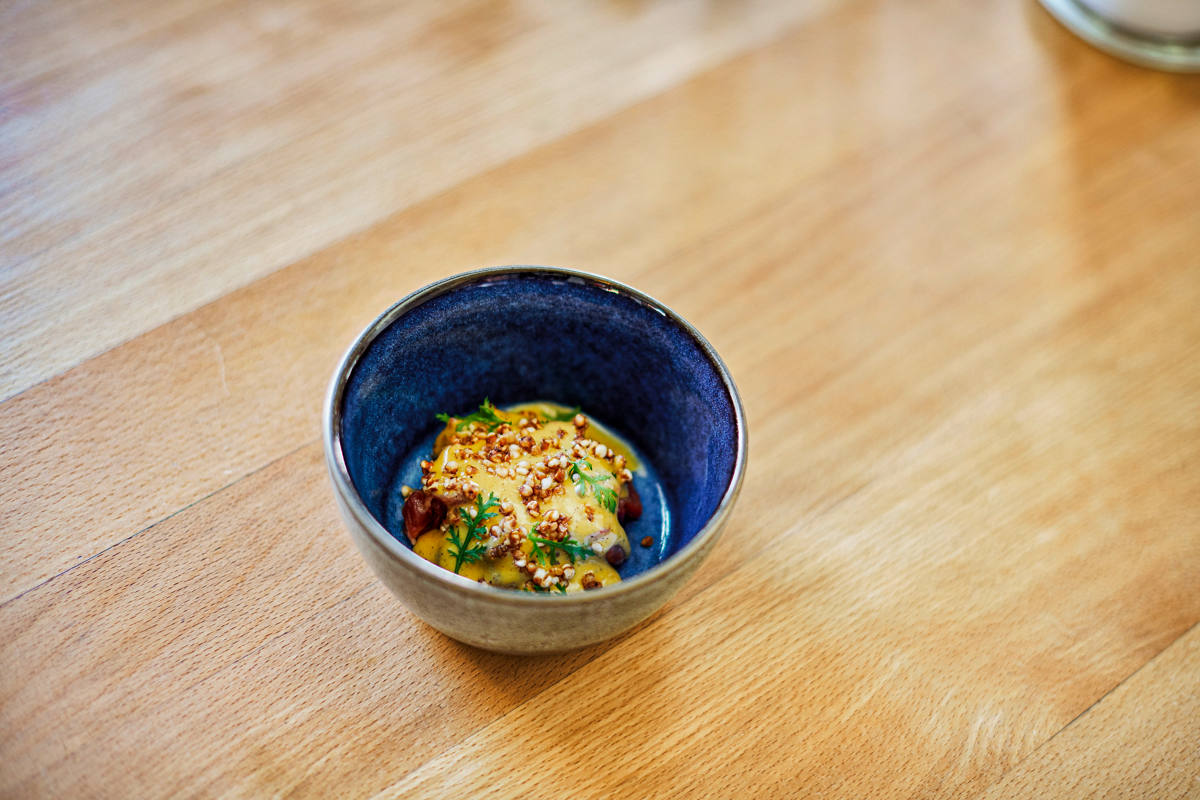 Cook the buckwheat in a pan of water until soft. Drain and leave to steam dry.

Spread evenly on a baking tray. Dry for 9 hours at 65 degrees or until fully dry.

Puff the buckwheat at 200 degrees in sunflower oil. Dry on kitchen paper. Salt lightly and season with togarashi.

Cut the beef fillet into evenly shaped dice and marinate with rapeseed oil, salt and lemon zest.

Using a bain marie, beat the egg yolk, rice vinegar and miso paste into a foam.

Gradually add the clarified butter in a thin drizzle.

Divide the tartare among the plates, pour the miso hollandaise over the tartare and serve with crispy buckwheat.

Well looked after with CSS