Healthy porridge for a warm and comforting breakfast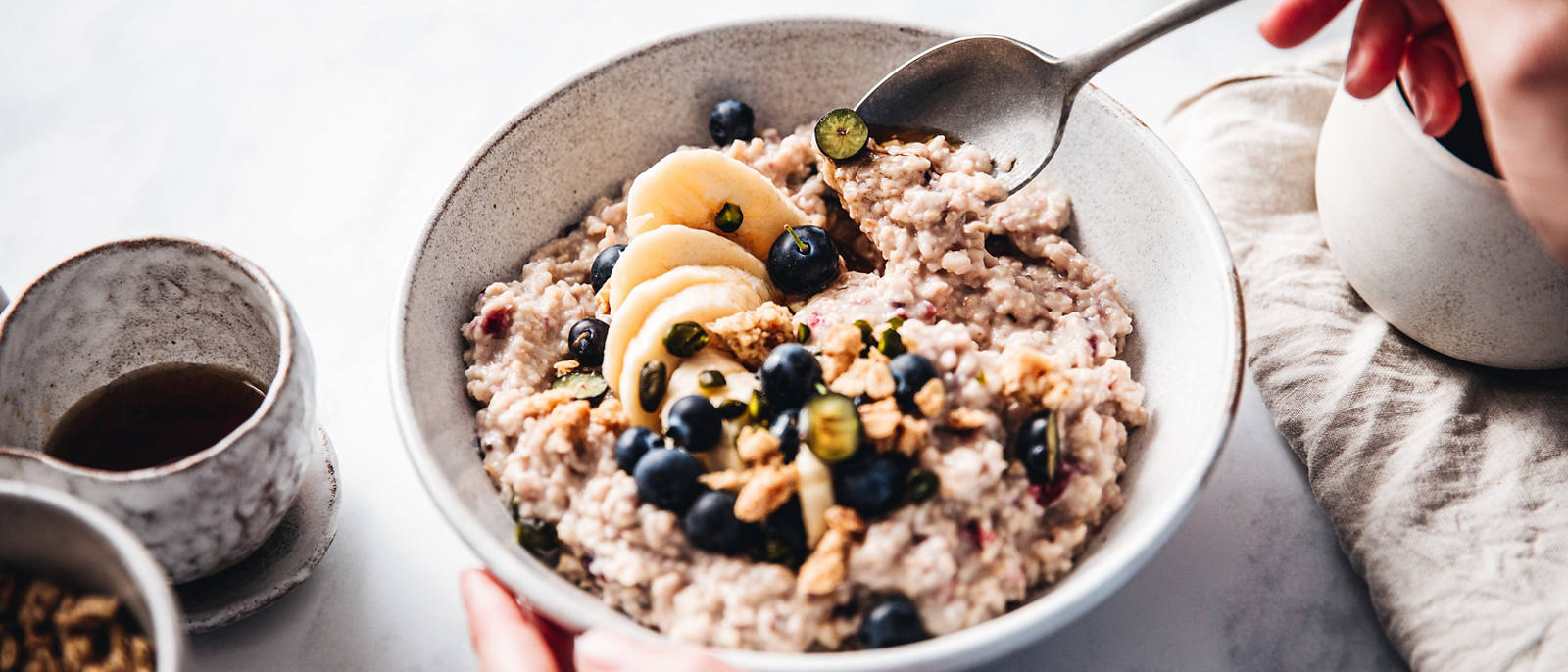 The Brits have always loved their porridge. In the meantime, the warm oat-based breakfast has become popular here too – after all, it's both healthy and filling. What's more, the dish is simple to make and easy on the stomach.
Delicious porridge
Porridge – the name alone sounds more like a comfort food for the sick than an enjoyable breakfast. But it's actually very pleasant. While creamy in consistency, the oats retain a slight bite, and the taste is mild and slightly nutty. And it really does keep you going until lunchtime.

Porridge vs overnight oats

Porridge is a staple in Great Britain and no traditional English breakfast would be complete without it. The energising breakfast has its roots in Scotland, where it was a poor man's food and eaten in savoury versions too. When served warm for breakfast, the popular dish is known in the US as oatmeal. If, on the other hand, the oats are left to soak in liquid in the fridge overnight, the dish is called overnight oats. This is served cold.

Porridge recipe

Porridge made from oats is the original version. For variety, you can also use other cereals such as buckwheat, spelt or millet – and flavour them to your taste.
What you need for one serving

50g fine oats
120ml milk or water
pinch of salt
sugar, cinnamon, vanilla or other spices to taste
fresh fruit, dried berries or compote

Topping: nuts, seeds, honey or maple syrup

Prepare & serve

Cook the oats with cow's milk, plant milk, water or a milk-water mixture for a few minutes until the consistency is creamy.
Be careful that nothing burns.
Season to taste with a pinch of salt, sugar or spices such as cinnamon, cardamom, turmeric or vanilla (tonka bean is another option).
Mix fresh, preserved or dried berries or fruits into the porridge. It also tastes good with a warm compote.
Top with chopped nuts, seeds, a dollop of honey or maple syrup.
If you're not keen on our standard cold breakfast of bread and jam or muesli, find it indigestible, or need to ring the changes at the breakfast table, you'll find porridge recipes are a good and speedy alternative.
Beneficial for stomach & gut

Far Eastern health teachings such as Ayurveda and TCM (traditional Chinese medicine) also recommend a warm meal in the morning. For one, because it's easier on the stomach and gut. For another, because warmth stimulates the digestive system and creates a full body sense of well-being. So those who feel the cold easily in winter can start the day by warming up from within.

Valuable nutrients

To top it all, the meal provides valuable nutrients. Oats are one of the healthiest grains and are now seen as a native superfood. Helena Kistler-Elmer: "When the grains are rolled, the edge layers and germ of the grains remain. Oats are always a whole grain product." The range of valuable substances it contains include fibre, iron, zinc and B vitamins.
Well looked after with CSS