Cleverly combined food­stuffs: 5 healthy pairings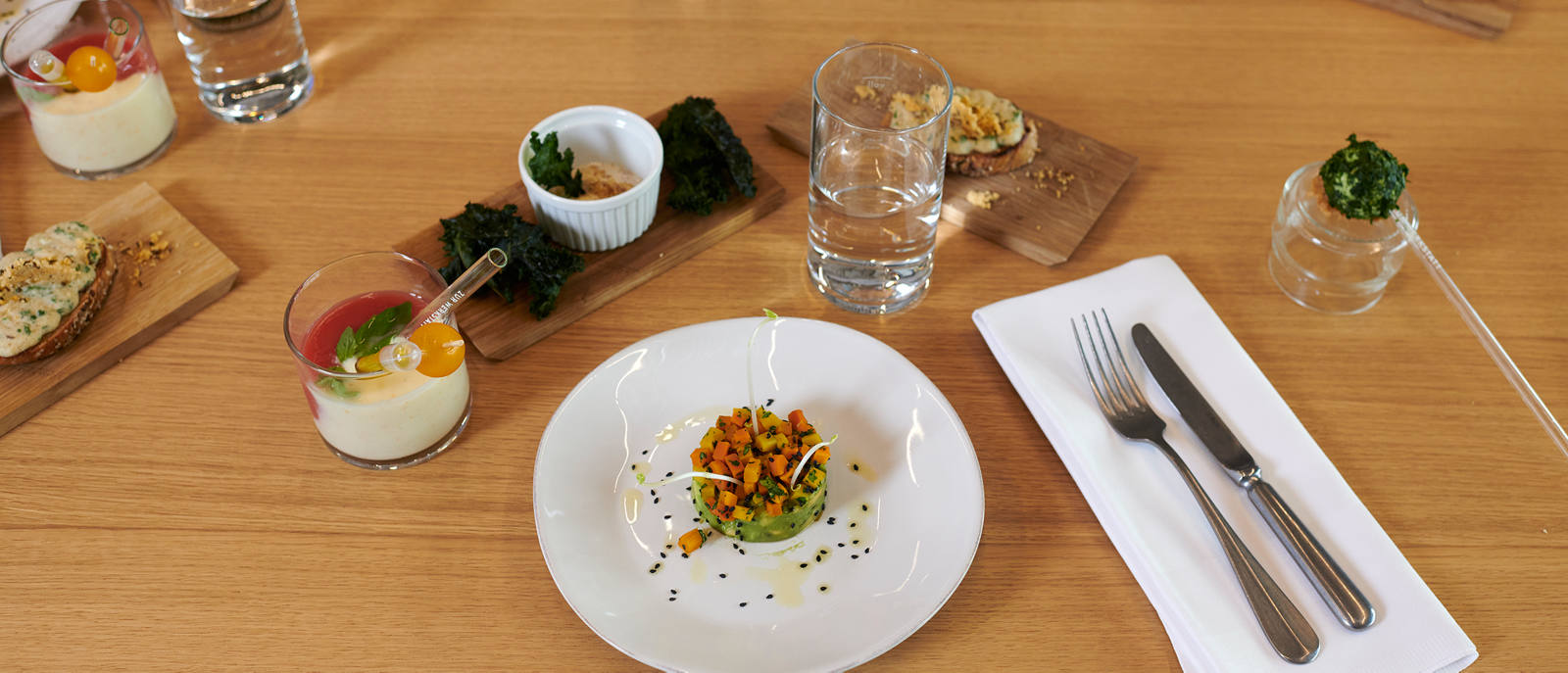 Many nutrients, such as vi­ta­mins, secondary plant com­pounds and minerals, only deliver the maximum benefit to our body when taken in com­bi­na­tion with others. We have some tasty, easy-to-prepare recipes for you to try at home.
Tomatoes owe their vibrant red colour to lycopene, a potent antioxidant which is fat-soluble. In other words, it is most effective when eaten with some type of healthy fat such as olive oil. Lycopene is believed to have a beneficial effect on the cardiovascular system.

Recipe for yellow & red tomato smoothie with olive oil
500g cherry tomatoes, yellow
20g sugar
10g mango vinegar
150g natural yoghurt
Juice of 1/4 lemon
Salt and pepper to taste
Mix all the ingredients except the yoghurt together and pass through a sieve. Add yoghurt and season with salt and pepper. Chill.

500g cherry tomatoes, red
20g sugar
Tabasco, Worcestershire sauce, salt and pepper to taste
Juice of 1/4 lemon

Mix all the ingredients together and pass through a sieve. Season with salt, pepper, Tabasco and Worcestershire sauce. Chill.

Method: Use a measuring jug to pour both smoothies into a glass at the same time so that they don't mix, then drizzle with the olive oil infusion.

Caraway & cheese

Caraway helps alleviate flatulence and is therefore particularly effective when taken in combination with fatty foods or foods that cause gas. So it's no coincidence that caraway is popular as a raclette seasoning.

Recipe for bruschetta with Brie and caraway cream spread & cumin crunch
250g Brie
1/4 tsp. cumin
1/4 tsp. caraway, whole
50ml vegetable stock
1 sprig parsley, chopped
50g cream, whipped
Salt and pepper to taste

Blend Brie, caraway and vegetable stock. Add whipped cream and chopped parsley, and season with salt and pepper.

5 tbsp. Sbrinz, grated
1 tsp. caraway, whole
1 tsp. cumin

Mix all the ingredients together, spread on a baking tray and bake at 180 degrees for around 10 minutes. Leave to cool, then break into pieces.

4 slices wholegrain baguette
4 tbsp. olive oil
Heat olive oil in a pan and fry the baguette slices on both sides until crisp. Allow to cool briefly. Spread the Brie cream onto the baguette slices and sprinkle with cumin crunch.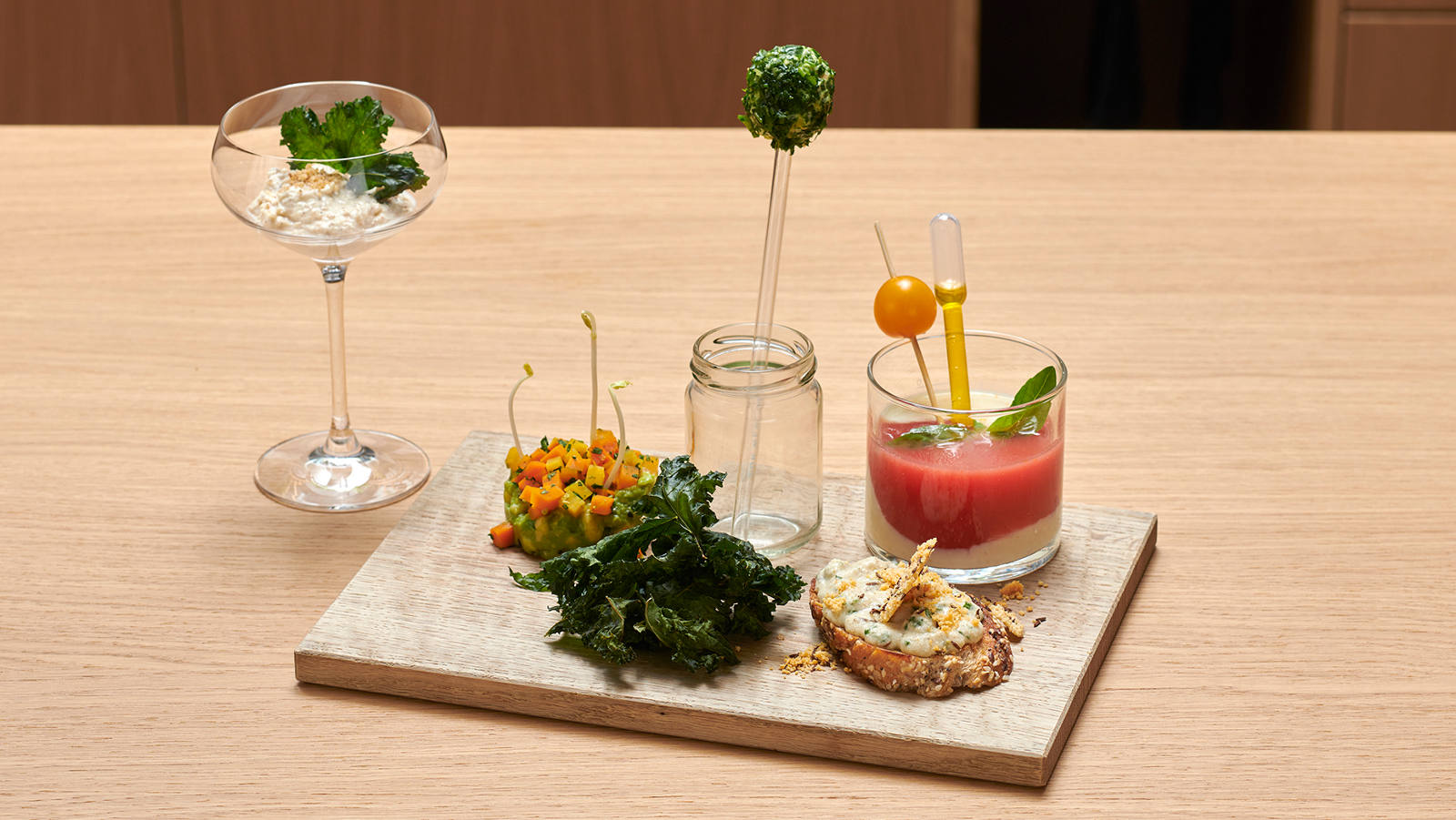 Carrot & avocado

Carrots are packed with vitamin A, which is so important for eye health. Oil or foods high in fat – like avocado – help increase the absorption of vitamin A.

Recipe for millefeuille of carrot and avocado tartare

Ingredients for avocado tartare

3 avocados
15g lemon oil
1/2 lime (juice and zest)
1 tbsp. black sesame
Salt, pepper and Tabasco to taste
Dice the avocado, add the rest of the ingredients and season.

Ingredients for carrot tartare

400g carrots (in 2 different colours if available)
40g apple vinegar
150ml water
30g sugar
1/4 tsp. salt
1 sprig parsley, chopped
1 lemon (zest)

Wash, peel and finely dice the car­rots (5mm x 5mm). Put apple vinegar, water, sugar, salt and lemon zest into a pan. Add the diced carrots and cook until tender. Allow to cool, then add chopped parsley and season with salt and pepper.

Spinach and lemon are not just a delicious combination of flavours. The iron in the spinach is important for the production of blood and plays a key role in boosting the immune system. The vitamin C in the lemon makes it easier for the body to absorb the plant-based iron. Other pairings include strawberries and rolled oats for breakfast and lentils and peppers for supper.

Recipe for spinach & lemon lollipops
150g spinach
40ml vegetable stock
5g sugar
3 sheets of gelatine
1 lemon (juice & grated zest)
1 tbsp. lemon oil
150g cream cheese
130g sliced almonds, roasted and roughly chopped

Finely chop the spinach and set aside.
Soak the gelatine in ice-cold water.
Heat the vegetable stock and sugar in a pan, remove from the heat and dissolve the gelatine in it. Put the vegetable stock and gelatine mixture into a bowl.
Add the lemon juice, grated zest and lemon oil. Mix well.
Add the cream cheese and sliced almonds to the gelatine mixture and mix well by hand (wearing a glove).
Add 1/3 of the chopped spinach and continue mixing. Season with salt and pepper, and place in the fridge for 2h until set.
Remove from the fridge, form small balls and roll them in the remaining spinach.
Place onto small sticks and serve cold.

The folic acid contained in the chickpeas is an excellent match for the vitamin B12 found in the salmon. You see, folic acid needs to be accompanied by this particular vitamin for the body to absorb it. Together, the two nutrients combat high homocysteine levels in the blood. These are considered a risk factor for cardiovascular diseases, as well as for Alzheimer's and depression. Other tasty com­bi­na­tions include asparagus with trout in spring or beetroot and chicken.

Rocket and spinach contain plant-based iron, which can best be absorbed with the help of the vitamin C from the lemon.

Salmon and chickpeas are an ideal combination of vitamin B12 and folic acid.

Tomatoes and olive oil improve the absorption of lycopene.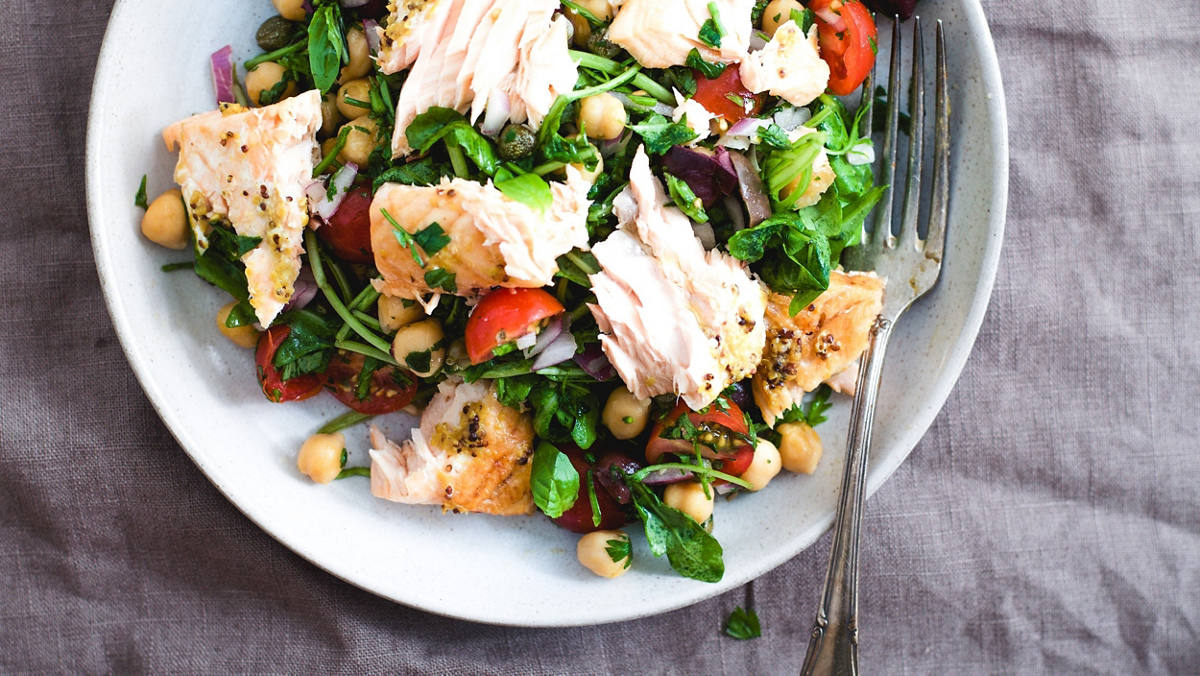 Recipe for salmon & chickpea salad
2 salmon fillets, deboned and skinned (about 150g each)
2 tsp. Dijon mustard
1 tin chickpeas (rinsed & drained)
1 tbsp. olive oil
1/2 red onion, chopped
1/2 cup Greek Kalamata olives, stoned & halved
2 tbsp. capers
200g cherry tomatoes, halved
Juice of 1/2 lemon
2 tbsp. olive oil
1 small bag of rocket salad
1/2 pack of dill, chopped
1/2 pack of basil, chopped
Salt and pepper
Preheat the oven to 180 degrees. Season the salmon fillets with salt and pepper, and rub each one with 1 tsp. Dijon mustard. Place the fillets in a casserole dish brushed with oil and cook in the oven for 12–15 min. Drain the chickpeas and mix with olive oil and a pinch of salt and pepper. Place them in an oven­proof dish and roast in the oven.

Meantime, place the red onions, olives, capers and cherry tomatoes in a large bowl. Add salt, pepper, lemon juice and olive oil.

As soon as the fish is cooked through, take it and the chick­peas out of the oven. Break the salmon into pieces using a fork and leave to cool for a few min­utes. Mix the rocket, chickpeas and herbs into the salad and serve the salmon pieces on top.

Premiums for 2024 at a glance
Well looked after with CSS